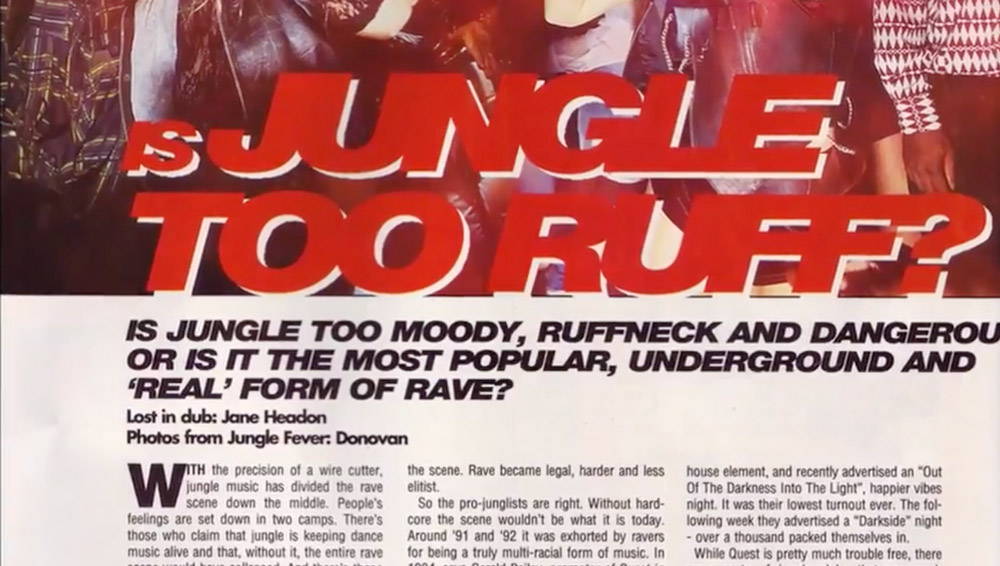 The Story of the Original Nuttahs: How Jungle Music Informed Decades of Style and Culture

Along its mission to engage the many great talents from its global network, One Block Down is proud to announce its latest partnership with Instagram page Samutaro. Documenting the figures, movements and products that have shaped contemporary stylistic discourse, the collaboration looks to shine new light on some of culture's most untold stories.
In the late-80s, a new genre of underground dance music exploded in London. Combining the hyperactive breaks of hardcore rave, set against the heaviness of dub, this new sound known as jungle ushered electronic music into a bold new era of experimentation that would revolutionize UK club culture (and counterculture) forever.

Yet another innovation of black music creators, jungle's unmistakable sonic footprint was the result of forward-thinking DJs who were cross-pollinating sounds and playing around with the pitch levels of existing records. In North East London, Smiley and PJ of "Shut Up and Dance", looped and sped-up hip-hop breaks and dancehall's rowdy vocals into the house music template for their Heatwave International soundsystem parties with DJ Hype. At the same time in 1988, selectas like Fabio and Grooverider looked for a quicker tempo in their acid house records to keep ravers dancing into early mornings during their RAGE club night at Heaven.
Scroll down below to read our extensive editorial report with Instagram page Samutaro on how jungle music came to revolutionize UK counterculture and shaped decades of style.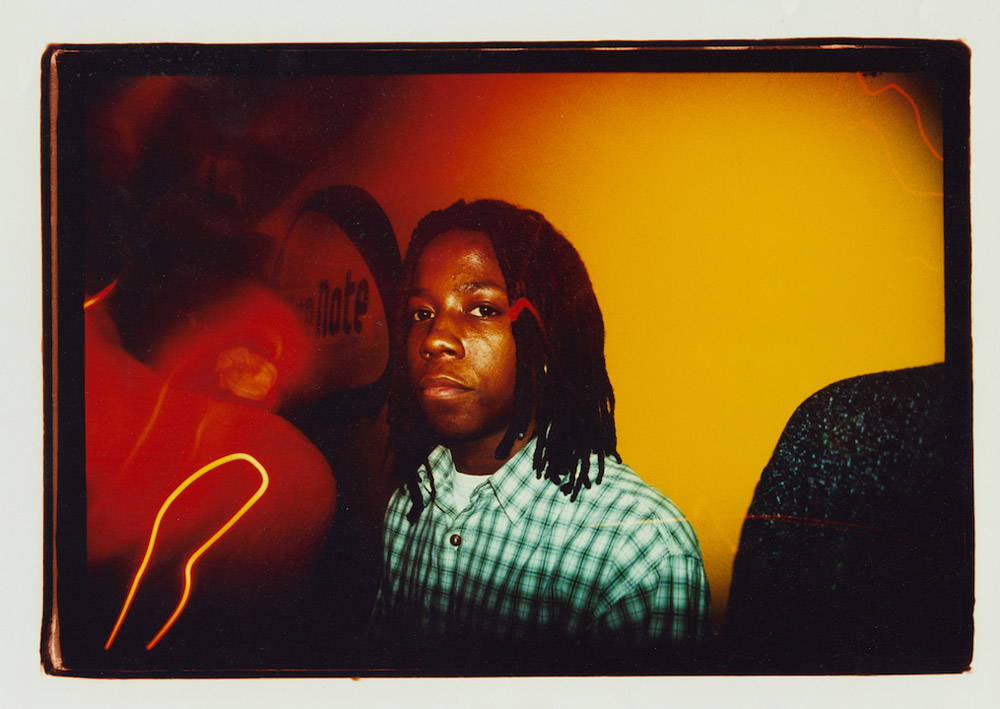 Credits: Fabio by Michael G Williams, Metal Headz club night at The Blue Note by Eddie Otchere, Dazed and Confused 1996
The result was a totally unique sound never heard before in dance music. These explosive beats played at breakneck speed would soon become the discontented roar of England's working-class youth. "When we first started it wasn't called jungle," says Flinty Badman, one half of the pioneering MC duo, Ragga Twins. "We didn't even have no name for it." Instead, jungle represented a new hybrid identity within British youth, blending Jamaican reggae, in particular the soundsystem rituals of rewinds, dubplates, and MCs chanting over the DJ's relentless barrage of beats, but also working riffs and atmospheres from harder underground dance music.

It's this collision of different soundscapes that helped lay the foundation for jungle's inclusive culture. "You had rave music using all this ragga and reggae and it was drawing all these people into the rave scene because of all these different sounds," explains Slipmatt in"Jungle Fever", a documentary on the history of jungle and drum & bass byDazed & Confused. While the term "jungle" was initially controversial due to its derogatory connotations with racist slurs at the time, the name stuck. "The good thing about the name when it stuck was that when they (the media) checked it out it wasn't just black people in the dance," remembers Flinty Badman. "It was a mixture of cultures together in one place and that's what jungle done."

By the mid-90s, jungle was so popular that it propelled a stream of anthems into the wider cultural sphere, with barely any radio support from the BBC or commercial stations. Tracks like Shy FX & UK Apachi "Original Nuttah" showcased the genre in all its rude boy glory, while at the same time, producers like 4 Hero and Goldie laced their tracks with horror and sci-fi movie samples that tapped into a new "Darkside" dance floor mood. From there on, the music underwent a rapid period of evolution. Jungle got rougher and ruder, but it also got more musical, stirring in flavors from soul, jazz and ambient to produce new luminaries of what came to be called "drum & bass" such as LTJ Bukem. This sleeker, more technical drum & bass sound spawned a dizzying number of sub-genres, from liquid, to jump-up, and halftime.
"The good thing about the name when it stuck was that when they (the media) checked it out it wasn't just black people in the dance. It was a mixture of cultures together in one place and that's what jungle done."

— Flinty Badman, one half of Ragga Twins

While the musical moods and stylistic tendencies differed between artists, DJs, and labels, the blueprint remained consistent: samples, bass, and breaks at 160 beats per minute. These sounds were peddled to London's inner city youth by the pirate stations that swarmed across the radio dial, as well as the eras infamous "tape packs", the semi-official collections of recordings of major jungle and hardcore raves like Voodoo Magic, One Nation, Helter Skelter, Telepathy and Hysteria.

There's a lot of romance to this pre-internet era, as anyone who's ever plastered their walls with rave flyers or waltzed across their bedroom floor with a radio aerial trying to get a clear signal can testify. Whether you were listening while doing your homework or posted up for pre-drinks with mates, pirate radio offered a way for the wider community to connect. "I always felt I was one of many thousands that would be listening," says Mike Finch, the UK's largest collector of pirate radio tape packs. "And that's a feeling of inclusion and connection with all these people you don't know. But you'd go to a rave that weekend, and just know that some of them, a lot of them, have been listening during the week, with you."

Inside the raves, the crowd (or junglists as they were known) came dressed in an eclectic look that was as diverse as the audience itself. "As the jungle sound gained traction it brought in a wide variety of new people into the rave scene," Ollie Evans, founder of Too Hot Limited and director of "Jungle Fever" explained toDazed. "Parts of that new audience were coming from reggae and dancehall, and you saw elements of that fashion come over with them. This is where the bright, colorful designer label style came in."
"A lot of the house clubs by this point had strict dress codes so it made jungle and DnB events much more inclusive because you could get in wearing jeans and trainers."

— Ollie Evans, founder of Too Hot Limited

It was this cultural influence that distinguished jungle from the acid house explosion in 1989. "Acid house's explosion in 1989 took a lot of stylistic inspiration from American hip-hop, that's why you see colorful jackets and baggy clothes," explains@dancepolicy, an Instagram account dedicated to the UK's dance music history. Much of the aesthetic of acid house was shaped by the location and environment that the parties were often taking place — outside, in a field, forest, or in a warehouse, which naturally gets cold, especially in British winter. But for jungle, it was completely different. "Jungle music was typically played in tiny sweaty basement clubs in London and Bristol, which encouraged people to just wear what they felt comfortable in."

Part of the appeal of what made jungle club nights attractive during the era was the door policy. "You have to remember that it was important to be wearing the right thing in the '90s, or else you wouldn't be let inside the club," Dance Policy details on UK club etiquette at the time. But when it came to jungle nights the door staff were more relaxed on dress codes. "You could wear anything and get in," explains Evans. "A lot of the house clubs by this point had strict dress codes so it made jungle and DnB events much more inclusive because you could get in wearing jeans and trainers."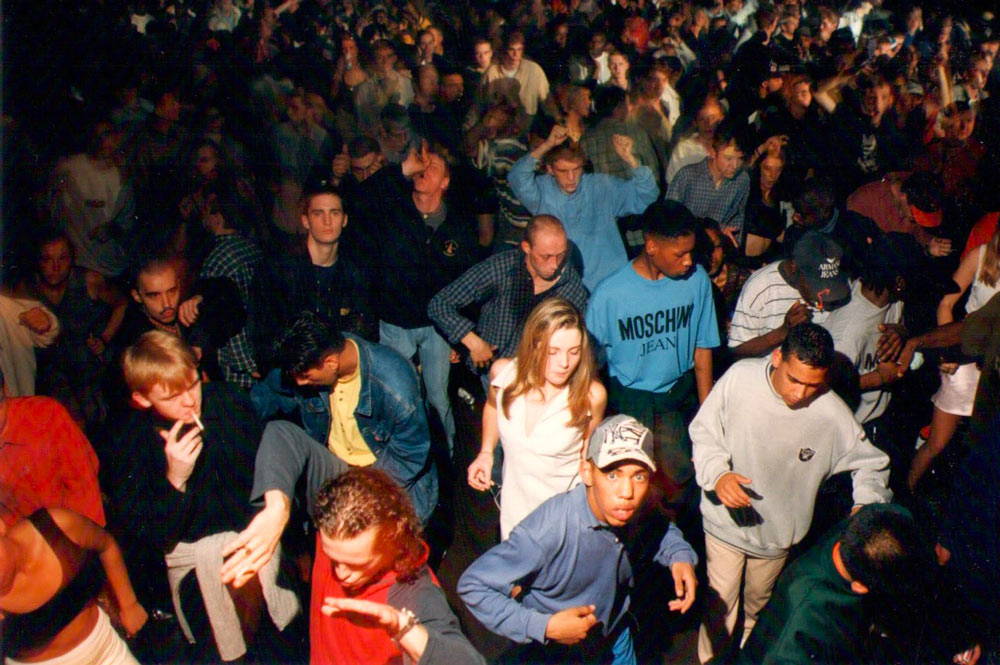 While it wasn't essential to wear smart shoes and trousers to a jungle club night, people still came dressed in expensive threads. "Brands like Moschino, Versace and Armani were big too. It was all about the Italian brands at that time," Dance Policy explains. A precursor to the garage scene, the boldly printed designs of Italian luxury labels were integral to the look. "You would see ravers wearing full Versace or Moschino outfits that were loud and full of color, and representative of the vibrant Caribbean influence that could be heard in the music." Evans even recalls MC Trigga as being one of the biggest proponents of Italian luxury, thanks to his alias, the Moschino Don.

But it wasn't just about wearing expensive clothes. DJ Nicky Blackmarket explains that one of the beauty's of the jungle scene was the freedom to express yourself how you liked. "At a jungle club, you could wear what you wanted. You could wear the Moschino, Armani and the Iceberg jumpers if you wanted. But then again, you could wear track suits and dress to sweat it out."

Speaking on his personal experiences going to jungle club nights in Birmingham, Evans explains that midlands style differed from London as it wasn't just about designer threads. "As we got older, and were able to start going to raves, Berghaus, Rockport, Moschino, Nike, and Evisu were popular," he says. "It was a slightly different style in the midlands than London with more of an outdoor flavor, with the rain jackets and hiking boots making it look like you were ready for anything."

Part of the allure of any club night was watching the MCs on stage. While the DJ's were certainly the main event and provided the soundtrack to the night, the MCs were equally important in keeping the energy inside the rave alive. "The MCs were a bit more visual, particularly people like Skibadee and Shabba D, who were big personalities and had stage presence," remembers Evans. The late-90s saw a huge shift in dynamics, both musically and for any self-respecting MC. Skibadee together with Shabba D and Det led ravers into what was known as the "One Nation Era". Evans recalls seeing Skiba wearing a full Stars-and-Stripes outfit complete with bandana on stage at One Nation as being one of the most profound style moments in memory.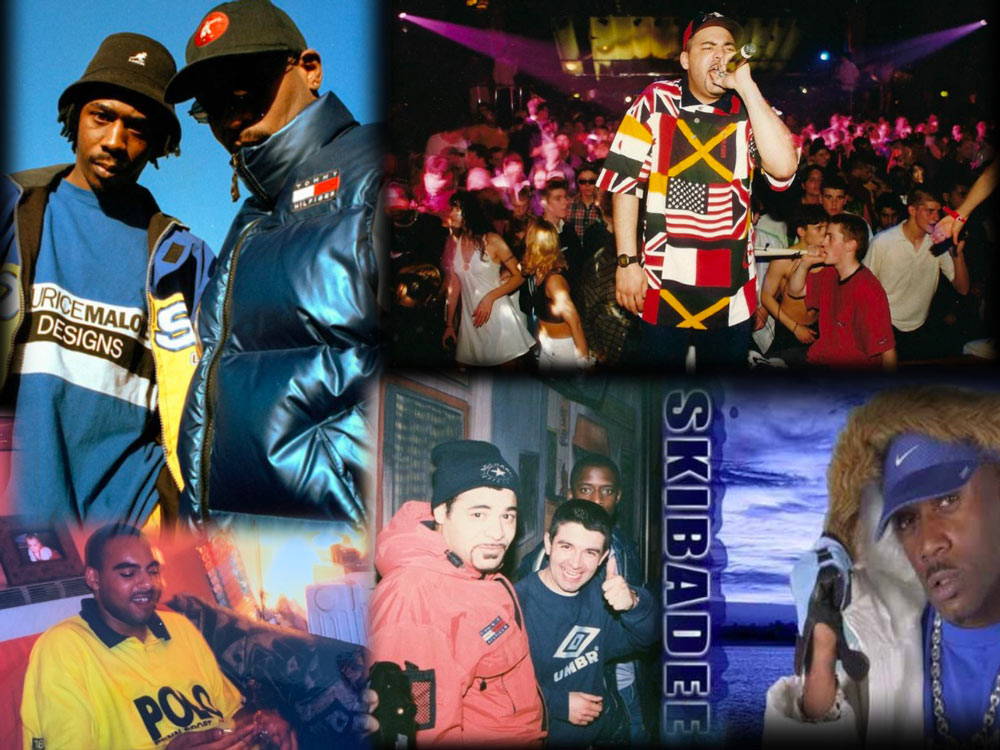 Credits: Bryan Gee and Jumpin Jack Frost, Brixton, 1996 Eddie Otchere, Stevie Hyper D by Tristan O'Neill, MC Skibadee, Stevie Hyper D and Nicky Blackmarket, Polo Geezer
Another MC that was at the forefront of many ravers' minds when checking the latest rave flyers was, MC Stevie Hyper D. Influential both on the mic and in style, the late Hyper was a mic man of true proportion. The London-born MC blazed a new era of MC culture in the jungle and drum & bass scenes, due to his "Double Time" MCing style, where he would double the speed of the generic MC flow but would still fit within the bars of the music. His tag team sets with DJ Nicky Blackmarket are some of the most memorable, combining a frantic tune selection and Hyper's utterly unique way in which he could hype the crowd. "He was causing mayhem everywhere he performed," remembers Blackmarket. "This was around the time Stevie (god rest his soul) was coming to every dance with me. He would literally turn up and destroy the place."

Hyper's flamboyant style only added to his on-stage charisma. Much like his rap counterparts in NYC, Hyper was drawn to the bright, colorful, and ostentatious style of American lifestyle brands that were prominent during the era. By the '90s, the cultural resonance of brands like Nautica, DKNY and Tommy Hilfiger had reached UK dance floors and became just as integral a part of underground dance music as it was in hip-hop. Evans highlights Polo Geezer as another MC who shared the same affinity for preppy labels. But rather than wearing head-to-toe like NYC's infamous Lo-Life's, the Birmingham MC put his own unique British stamp on the look by styling RL button-down shirts, with Reebok Classics or Air Max BW and gold jewelry.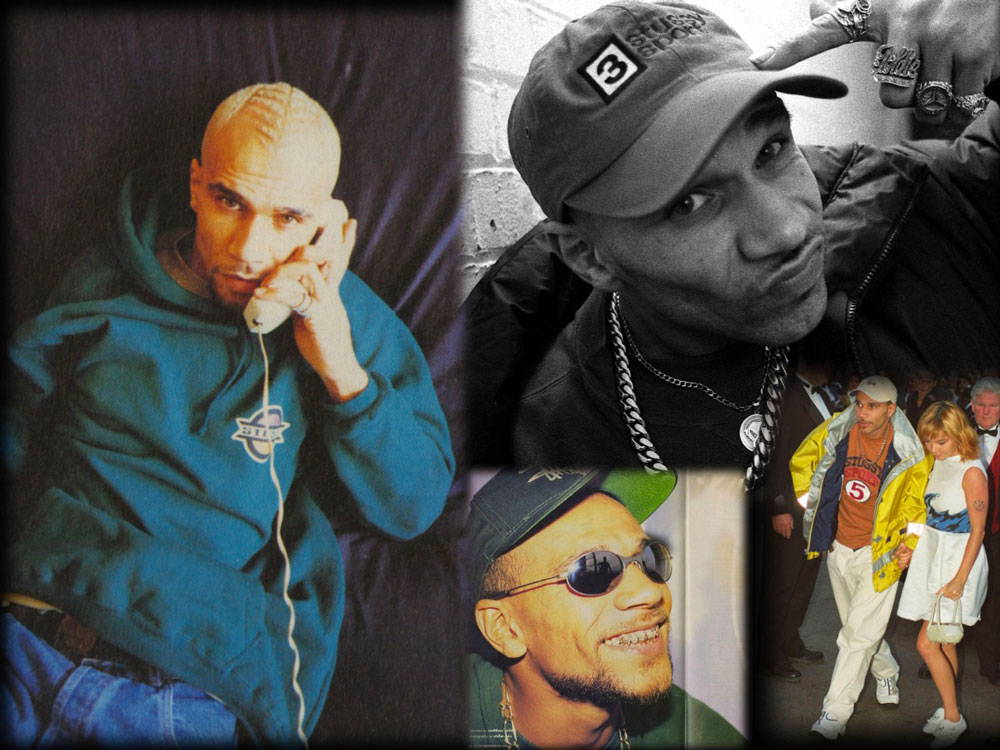 Credits: Goldie in I-D'S The Drug Issue, 1994 by Wolfgang Tillmans, Goldie and Björk at the 1996 MTV VMAs by Mitchell Gerber, I-D's The Underground Issue, 1994 by Stefan Ruiz
"At a jungle club, you could wear what you wanted. You could wear the Moschino, Armani and the Iceberg jumpers if you wanted. But then again, you could wear track suits and dress to sweat it out."

— DJ Nicky Blackmarket

No one lit up the '90s quite like Goldie though. All gold teeth, bleach blonde hair, and plenty ofStüssy, the jungle pioneer was a true originator of streetwear. Dance Policy cites throwback footage like Channel 4's"Goldie Video Diary" from 1995 which captures the Metalheadz co-founder driving around in his Mercedes Benz 500E, wearing a Stüssy baseball cap, trainers, gold chains and a pair of white Oakley Eye Jacket sunglasses that anybody who had ever set foot in a rave was legally required to own.

Goldie, who had spent much of his early years in NYC painting and exhibiting, before returning to the UK with a new American style sensibility. Although his Americanized look was not entirely representative of the scene, his influential style was hugely influential in establishing streetwear in jungle. Much of the scene in the early-90s was dominated by European sportswear labels like adidas, Fila, Umbro and Ellesse, but by the end of the decade, a wider spectrum of American streetwear labels like X-Large, FUCT and Philly Blunts had made their way onto the dance floors. His legendary Metalheadz Sunday night residency atThe Blue Note in Hoxton, East London, was fertile ground for the tougher sound they were pushing to an increasingly international crowd. Heads from the scene would brush shoulders with celebs like Björk, David Bowie and Kate Moss, who were known to frequent the party.

By the time the late-90s rolled around, Goldie had become a household name. The Walsall kid had gone from graffiti artist to major label-signed record producer, artist, DJ and movie star. In 1997, i-D hailed Goldie "jungle's first fully-fledged celebrity" because, well, he really was. He had dated Björk, sold a quarter of a million copies of his debut album and had starred in films like "Everybody Loves Sunshine" (1998), "The World Is Not Enough" (1999) and "Snatch" (2000). The characters he played were often one-dimensional old school London gangsters, but that's what he did best.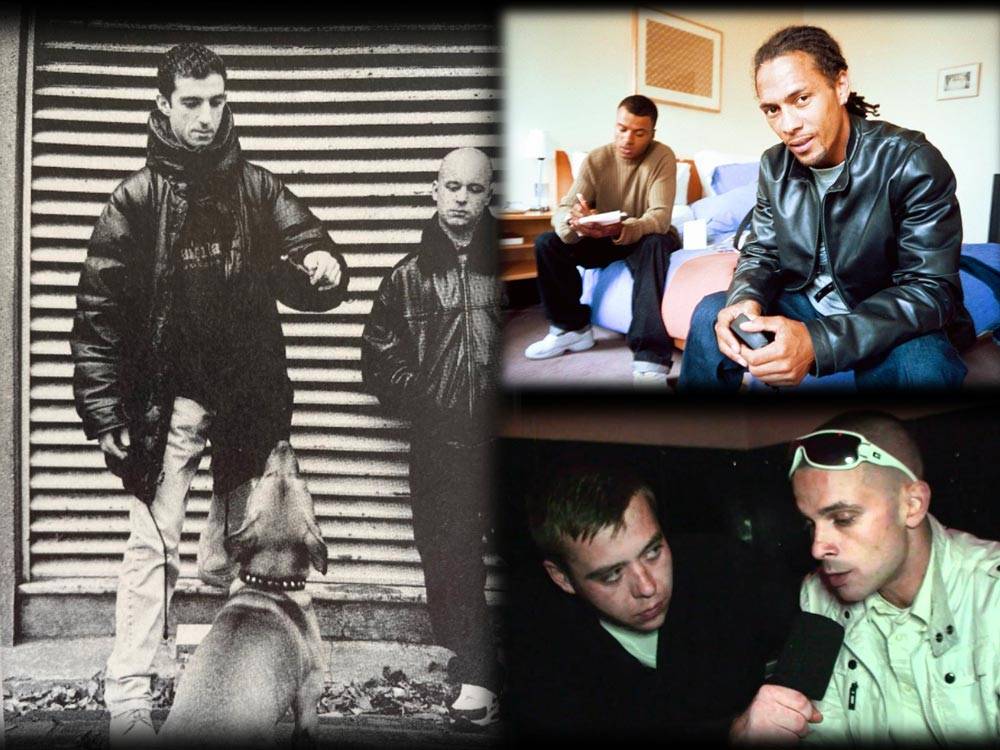 Credits: DJ Hype, Roni Size and Dynamite MC, 2000 by Sean Smith, MC Shabba D talking to James Helder
Goldie wasn't alone in his hardened gangster look. Evans recalls the style of acts like DJ Hype and Roni Size as a marker of the "tough, clean UK '90s drug dealer look" that was prevalent inside the raves at the time. "When I think of DJ Hype Roni Size I imagine their big, long 3/4 length jackets, loose jeans and white trainers." This wasn't just an aesthetic either. Gang presence inside drum & bass raves was very much real during the '90s, especially in cities like Manchester.

"It was nothing to do with the music," explains DRS toRed Bull Music Project. "It was the time and the unrest on the streets, drugs coming into the city. It changed the city and people realized money was to be made in the clubs. Gangs came in and that's when you had people in there with guns. To show off they'd shoot the ceiling for rewinds. It wasn't the music that brought them in. Different gangs fought for control. It was very messy times."

Many jungle archiving projects often portray the scene as a one-dimensional, male-led current history. But in fact, the culture was hugely inclusive when it came to diversity both on the dancefloor and behind the decks. "The girls wore a sexy style, explains Natasha Slee of Dazed. "An outfit might be a little black dress, leather waistcoats and jeans. Or more body conscious tight lycra dresses, mini skirts or hot pants were paired with embellished bustiers, tie front crop tops and satin bra tops to brock out all night."

Metalheadz co-founders Kemistry and Storm are two female acts that were at the forefront of the scene.Their mid-90s sets captured their flair behind the decks, defined by an unparalleled track selection, long, carefully crafted mixes, and a potent chemistry between the two DJs that spurred the crowd on. Their style was equally as captivating.Whether dressed in baggy streetwear, sleek leather jackets or elegant club gear, the duo were always immaculately dressed. "I was just staring at them, watching what they were doing," remembers DJ Flight, another female DJ who is fondly remembered for her 90s style.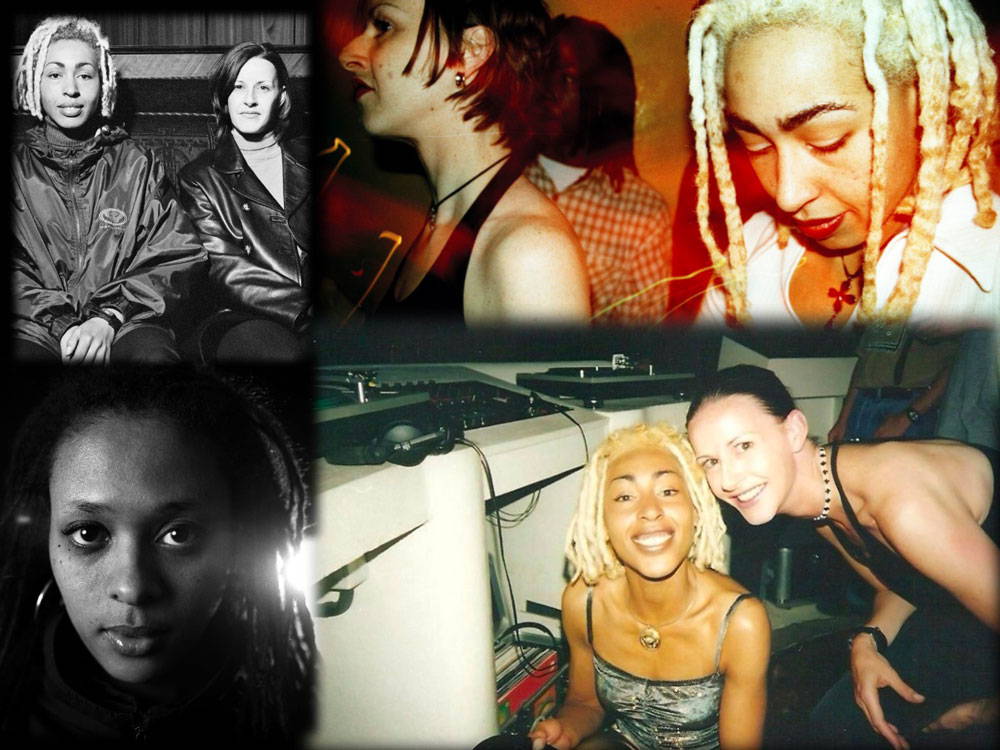 Credits: Kemistry and Storm, Kemistry and Storm Courtesy of DJ Storm, DJ Flight
Of course no club night would be complete without its very own merchandise line, which became staple wear for the crowd. "Merch was a big part of it and very tribal, especially with the MA2 jackets," explains Evans. "People wore the label or radio station that they represented like Kool FM." The iconic logos of major club nights like Hysteria, Eruption, One Nation, AWOL, Slammin' Vinyl, V Recordings became a badge of honor for punters to show their club loyalty. These shiny bombers were to jungle what leather biker jackets were to punks; a symbol of tribalism and a uniform that people wore with pride.

"I'll be honest... I think this was a period in time where music fashion was at its most unique, when record labels actually understood the link between the fashion pieces they released and how it related to their music," says Dance Policy. The magazine cites Flex Records, Phrodite, Joker, Deejay Recordings, Deep Jungle, Sour, and Studio Pressure as some of the most influential, many of which featured on shiny black bombers and record bags — another quintessential item of the era. "Everyone suddenly went from carrying their books in backpacks to having record bags sometimes from record labels, raves or Technics," remembers Evans on the cultural influence of rave in British schools.
Credits: Tim Head's Rave Flyers 90s, What We Wore, Nicky Blackmarket Records MA2 jacket, Eddie Otchere
"A lot of the same audience crossed over from jungle to garage when the scene became too violent, or the music became too industrial and dark taking that dress style and attitude with them."

— Ollie Evans

It's hard to ignore jungle's influence on other genres like UK garage which arrived later in the '90s. Not only did UK garage producers use sonic cues as signifiers of their past, with hardcore and jungle samples, but it all stemmed from the same inner city energy, which united sound system culture and UK rave culture to create something entirely new. "Sonically and visually it's a natural evolution" explains Evans. "Jungle and hardcore heavily influenced garage and grime, in terms of style, it's been interesting watching the resurgence of these genres in recent years and people pinning the Moschino and Versace solely on garage when it was very much something that evolved from jungle."

The flashy style of these Italian labels first worn by Junglists translated perfectly to the velvety sounding skips and swings heard on the dance floors of garage's parties. "A lot of the same audience crossed over from jungle to garage when the scene became too violent or the music became too industrial and dark taking that dress style and attitude with them," explains Evans.

With a dress to impress, champagne flexing mentality, UK garage not only became one of the most dressed-up youth subcultures in the electronic era, it was one of the most distinctive, tribal, and coherent in the history of street fashion. "Garage was such an anomaly compared to the other scenes that preceded it, a sense of formalwear mixed with streetwear," says Dance Policy. "Thats why I think it's the most unique music fashion for sure, it will always have a special place in my heart."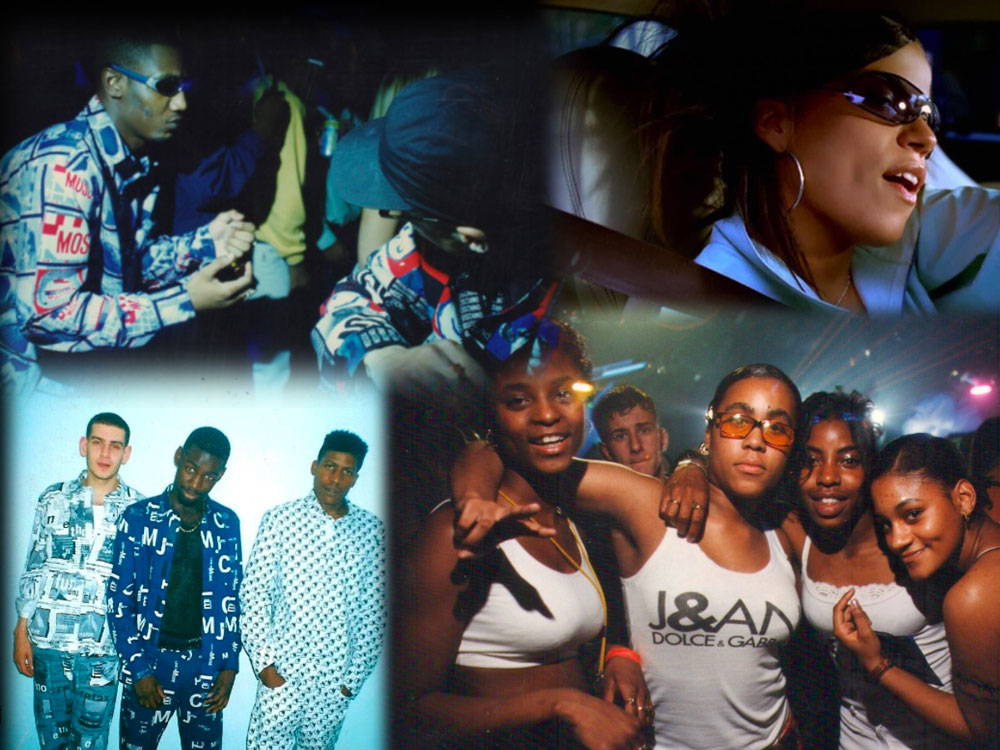 Credits: Ravers at One Nation by Tristan O'Neill, Miss Dynamite, Ravers at HEAT, 1997 by Tristan O'Neill, Heartless Crew, 1998
Today, some twenty years on and the reverberations of jungle's influence can still be felt throughout contemporary culture. Along with all things '90s, jungle is having an undeniable resurgence in dance music circles with DJs within the wider underground scene weaving classic jungle and breakbeat tunes into their sets. And in fashion, it's been hard to ignore the wave of '90s-inspired looks that have resurfaced, be it OG luxury labels cashing in on the monogram repeat looks synonymous with jungle and UK garage, or skate brands like Palace who consistently pay homage to the culture through rave-inspired imagery and collaborations with brands like Avirex, Evisu and Moschino.

As niche subcultures like jungle and garage are rediscovered and repurposed into mass culture, statement making apparel is more relevant than ever. One of the bitter pills for originators is that the clothes no longer hold the same cultural currency as they did in the past. They become empty signifiers. For ravers and junglists in the '90s, their clothes spoke to the tribe you belonged to, whereas today younger consumers readily switch between subcultural uniforms like trading cards, dressing in '90s skate brands one day, or a thrifted nu-metal look the next.

In the '90s, the notion of the "poser" was an unwelcome cultural interloper, but today it has become obsolete in a paradigm where the way something looks means more than what it actually means. While the average Gen-Z might not be able to IDWots My Code "Dubplate" or know about Wiley's history in the Pay As You Go Cartel before he made grime, they're more than literate in the style codes of the '90s, whether they know it's from jungle or not. With so much access to information, any cultural tourist has the means to become well-read enough to speak like a native. As more resellers like Too Hot Limited curate era-specific collections, and specialist platforms such as Dance Policy put the style sensibilities of UK dance culture into context, the neophyte can evolve into a more informed consumer. All it takes now is for them to put down their phones, and learn to twist one for Skibadee.
To receive updates on our latest editorials and documentaries, be sure to follow @oneblockdownon Instagram and subscribe to our newsletter below for more. This article is part of our Equality Manifesto and has been created to promote inclusivity and battle the lack of knowledge surrounding prejudicial hate crimes.