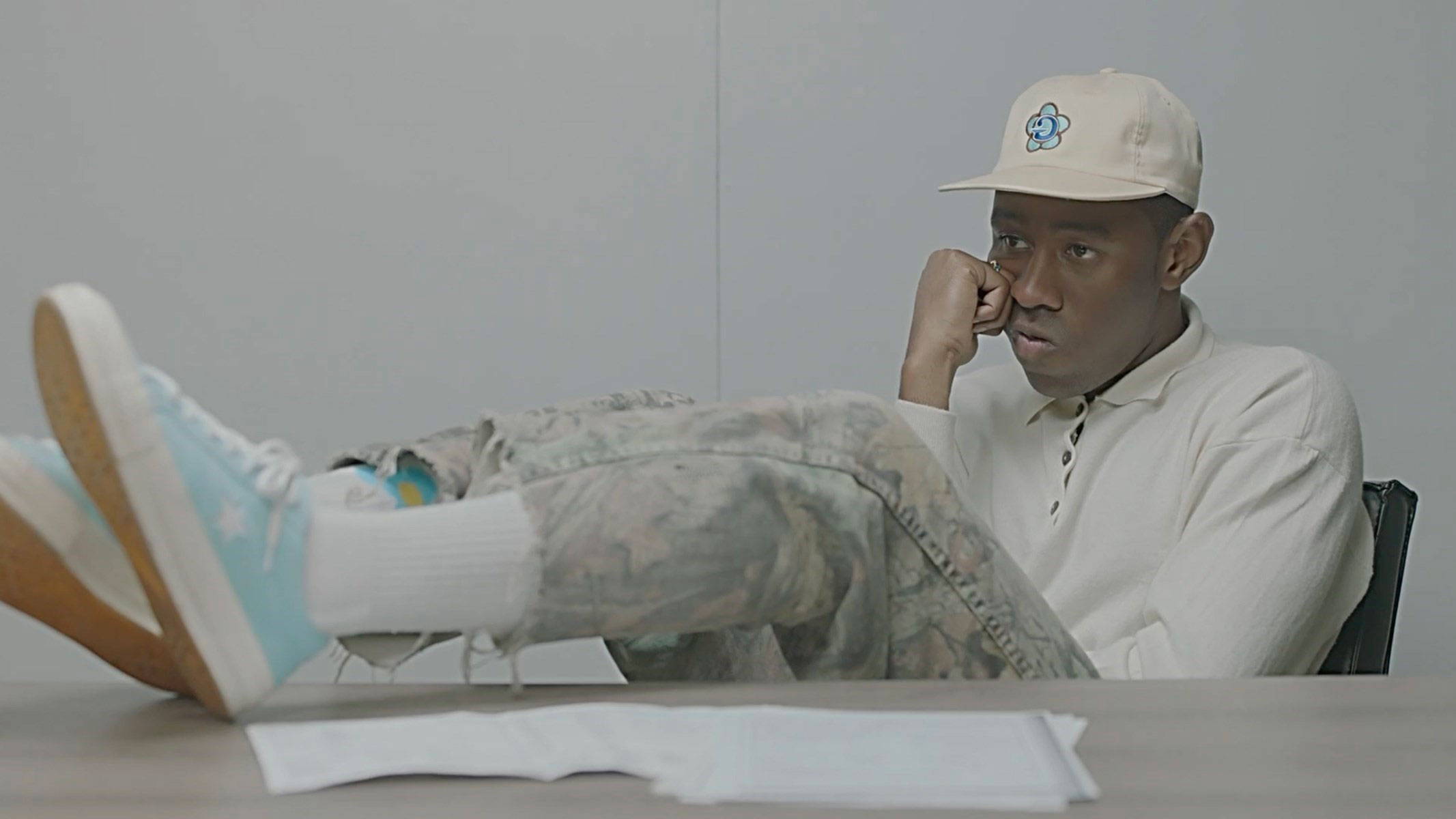 One Man's Universe: Charting Tyler, the Creator's European Style Journey Ahead of His Latest Converse Collaboration

Along its mission to engage the many great talents from its global network, One Block Down is proud to announce its latest partnership with Instagram page Samutaro and Converse. Coinciding with the launch of the latest GOLF le FLEUR* Chuck 70 "Yellow Flame", we look back at Tyler, the Creator's European style journey.
If there is anything we can learn from Tyler, The Creator's latest album, "Call Me If You Get Lost" it's that he loves to travel. "The greatest thing that ever happened to me was bein' damn near twenty and leavin' Los Angeles for the first time," he raps on the intro of "MASSA". "I got out my bubble, my eyes just wide, my passport is the most valuable." His passport not only provided inspiration for the album cover but it also acted as a reminder of how getting out of your comfort zone and expanding your experience of the world can help you grow as a person.

Having been globe-trotting for over a decade, it's fair to say that Tyler's passport is certainly thicker than most. His career has taken him to far-flung destinations like Japan and Australia, but it's his time spent in Europe that seems to be his fondest memories. CMIYGL opens with Tyler motoring in a Rolls-Royce to Lake Geneva for a refreshing dip. "Geneva water the best," he declares. "Switzerland, Lake Geneva" is, "where I spend my summer in," the rapper goes on to explain in "Juggernaut". During "Hot Wind Blows", he takes a trip round the lake on a yacht eating "fish so fresh you could taste the sand," while guest compère DJ Drama is spoon-fed "French vanilla ice cream" by a "young lady."

As well as Switzerland, the album takes trips to Capri, Cannes, Nice and Paris, the latter where in 2019 he got to enjoy an afternoon watching the final of the Men's Singles Tournament during the French Open. Dressed appropriately for the occasion, Tyler was pictured in his own brand of preppy classics; a fresh white tee, camel bucket hat, and a candyfloss pink mohair sweater nonchalantly slung over his shoulder. This English prep-school-like look might usually be reserved for privately educated students from WASP families, but Tyler has made it a personal signature style in his own offbeat and subverted way. While it might seem like a departure from his typical LA-skaterat style, to him it's the same - just a softer, more nuanced look. "No matter your age, I think everyone stays the same at their core," he said toVogue about his personal style. "And that's what people don't realize. Maybe the shorts I wear now have a different cuff, maybe the dress socks I'm wearing are a little nicer, but it's still the same as when I was 19, or 15, or eight years old."
Despite his success both on and off-stage, Tyler has no personal assistant and no stylist. Instead, he's cleverly used the idiosyncrasies of his personal style to project a wider vision of his universe. His fashion and lifestyle brand Golf Wang is a prime example. Now eight years old, the fashion and lifestyle brand has gained a cult following by defying all the conventional rules of streetwear and rewriting the notions of masculine beauty with his love for pastel hues, LGBTQ rainbow prints and velour suits. More recently, his collaboration-heavy spinoff GOLF le FLEUR* has earned Tyler a string of successful partnerships — namely his prolific sneaker collaboration with Converse.

Back in 2017, he reestablished a brand staple with its iconic One Star shoe, a mainstay of the '90s skateboard scene. The initial concept was simple: switch out Converse's signature star with the GOLF le FLEUR* flower design and refresh the silhouette in four colorways. This focused, no-frills approach has been core to his design philosophy from the start. "When I make clothes, there's not really, like, deeper meaning. I just make what I want to wear," he previously stated on designing Golf Wang. "You gotta make what you know. I think that's what a lot of lines lack. I put my personal life into my music, and I do it in my clothes, too."
His keen sense of color is undoubtedly influenced by his environment. Inspired by the saturated light of his native Golden state, colour has seeped its way into every aspect of Tyler's creative output, whether it's his album covers, clothes or even the music itself. "Colors play such a big part in my music and the way I think about things. They bring out certain moods."

Across the 22 editions of his GOLF le FLEUR* Converse releases, Tyler has applied colour and his personality in the most intimate ways. Think Converse Chuck 70s featuring original illustrations by artists handpicked by himself, those Chuck 70 "Flames" (a design which gets refreshed for 2021) that took reference from the shirt he wore on Cherry Bomb and the One Star's that came finished with a rainbow-colored sole, perhaps a nod to his support for LGBTQ communities.
When it came to releasing his original Gianno silhouette in 2019, he did so with a special launch at his Camp Flognaw festival in Los Angeles. More than being a destination for good music, the event lends a window onto the fun house of Tyler's outsize imagination. Amongst the carnival rides, merch stands and performance stages, was a gigantic slide in the shape of his latest GOLF le FLEUR* sneakers. Inspired by hiking and the great outdoors, or what Tyler calls "the substitute-teacher look"; these first pairs were exclusive to fans at the festival.

Tyler has always been known to be tapped into his global audience, and this small gesture was another example of his sensitivity to his fanbase. More than any other artist, Tyler knows how to cultivate a community in an authentic and engaging way. His early Tumblr pages, pop-up shops and meet-and-greets are testament to this. He ultimately changed the rules for doing business, taking a refreshing, considerably more personal approach to the traditions of brand and audience building.
Keeping in line with tradition, Tyler has leveraged his Converse collaboration to help further connect with his fans. Back in February last year, Tyler hosted an intimate Q&A with fans in London as part of Converse's Creative All Star series. Across what was meant to be a 30-minute talk and question-and-answer session (it stretched to almost two hours), Tyler spoke candidly about his creative process, style, the thought of an Odd Future reunion, and his recent Grammy win. "I feel like people in the UK are way more attractive and have better style than people in America," he told a whooping crowd.

For many British fans in the audience, it was exciting to see Tyler in London – back in 2015, he was banned from entering the United Kingdom for three to five years by then-Home Secretary Theresa May. May said lyrics on Bastard and Goblin "encourage(d) violence and intolerance of homosexuality", and "foster(ed) hatred with views that seek to provoke others to terrorist acts." It forced the cancellation of the UK leg of Tyler's Cherry Bomb tour and it wouldn't be until 2019 that he'd return to the Brixton Academy stage in London where he performed IGOR.

Today, many look at Tyler as an unreachable genius, but he was once just a kid trying to make his way in the world. "I was the 12 year old on nerd fan sites geeking out," he said in the Converse talk. "There's tiers to it. Sometimes, you have people who've been there six years and they're mean to the kids just getting into it…. don't do that, put them on that shit! But then I can understand that, for people, it's shit that they love." While Tyler has gone on to win Grammy awards, sell out stadiums worldwide and score next level sneaker collaborations, it's refreshing to see his outlook remain so inclusive. "I don't want what I do to ever be done in a too-cool, pretentious way. I like making stuff for everyone."
---