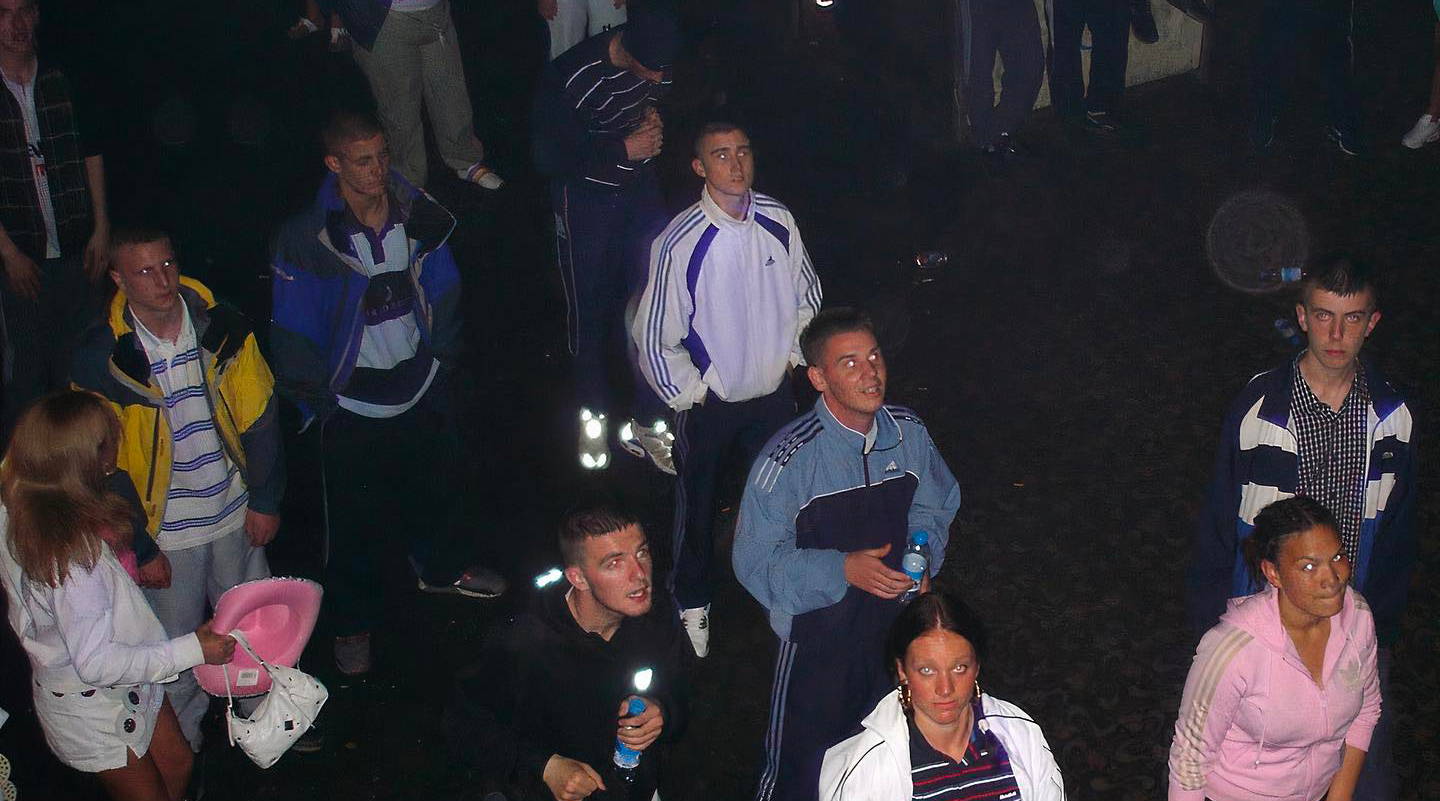 The New Monkey: The UK Club You've Probably Never Heard Of

The One Block Down editorial archive is an ever-evolving resource detailing the cultures, movements and ideas that defined contemporary stylistic discourse. From unique takes on today's leading pop-culture topics, to off-kilter stories that might have slipped through the net, our editorial archive is as fundamental as it is abstract.
If you are someone who is au fait with the rich tapestry of hard dance music, you will know all about Makina. If you don't do speed and aren't too keen on wearing cut-price sportswear in clubs, you probably won't.
Dubbed "the sound of the North East's council estates", makina is a soundtrack to life. "This is the sound of our childhood. This is the sound of what you'd hear in a park on a friday or saturday night, teenagers huddled around a phone. The sound you hear blasting out of a council estate, everyday of the week," Jimmy Mason aka Mc Rockeye tells Boiler Room in a recent, entitled 'Makina!'.
First emerging in Valencia, Spain in the early 90s, the genre fused hard dance genres like eurodance, happy hardcore and hard trance. The fast, bouncy beats with over-the-top happy melodies were originally pioneered by masters like Chimo Bayo, Nando Dixkontrol and EX-3 and was played throughout clubs like Chocolate, Psicodromo and Xque. During that era, a wave of British DJs would begin to transport records from Spain back to the UK, unknowingly kickstarting a whole subculture based on the sound.
When Makina first infiltrated UK club culture in 1999, it did so in tandem with an already burgeoning dance scene that was pushing a much harder edge, more euro-inspired style of music. "You had the Italian scene, then Eurodance, Techno, Happy Hardcore and then DJ Scott went to Spain," says DJ Rush on the origins of Makina in the UK. "He came back with a load of Spanish records and that's when the Makina stuff came through."
For most, these piercing, anthemic lead synth melodies might seem terrifying, but to the disenfranchised youth of the North East it represented identity. Makina became the instrumental backing to a generation of MCs like Rockeye who used the breakneck beats to talk about the intimate details of their lives, whilst hyping crowds at 180bpm. It is pioneers like him, along with a new generation of youth in the region that are continuing to push the genre forward and make it their own: undiluted and untouched from the outside.
"It's like a hobby, some people like boxing, some people like gym. It's my sport if you ask me," says MC Burty in Boiler Room's video, while MC Dean and Reese say they will listen to Makina at any point in the day. "If I was going to go boxing for half an hour, I would put my rave on. If I was going to go and sit upstairs, I would put my rave on. If I was going on a bike ride, I would put my rave on. It's a way of life up here and it's as simple as that."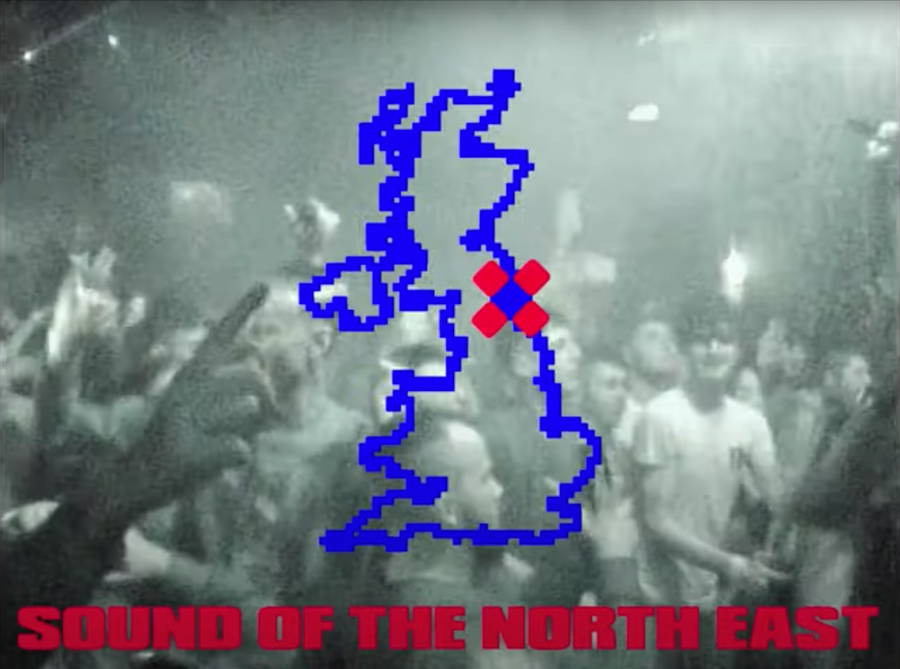 Primarily a working-class phenomenon, the sound found a niche audience in the North East of England in cities like Middlesbrough, Newcastle and all the way up Scotland. Even with its huge following throughout the region, the various Makina scenes' tracksuit and cap-clad charva's and all-gas-no-brakes attitude toward dance music were quickly written off by media outlets as trashy and unsophisticated.
Despite this, Makina remains one of the most important yet perennially ignored youth cultures in the North of England. "I'm not exaggerating when I say that makina is a genuine youth culture phenomenon in Newcastle and the North East in general, much like grime has been in London, or bassline in Sheffield," claims Paul Gibbons in a recentVice article on the scene.
"As a teenager, I'd hear makina being played at parties. It banged out from cars passing on the high street, kids swapped verses with each other and even my local barber sold bootlegged rave tapes," says Gibbons who see's Makina as a sound of a generation. He remembers how schools across Tyne and Wear were packed with pupils trading their favourite Powerhouse and After Dark tracks on their Sony Ericcsons via Bluetooth and Infrared, while music classes in council estate establishments held DJing and MCing classes for aspiring musicians.
Of course teens weren't just listening to Makina on their phones or in the car. Clubs like The Venue and The Colosseum regularly hosted Makina nights where local DJ's would blast Spanish imports through the speakers capped off by clever rhymes from performing MC's. No club is more infamous for Makina than The Blue Monkey, later known as The New Monkey in Sunderland. In fact, the club was such a mecca for the scene that many early ravers actually referred to the sound simply as "new monkey" because of its association to the club.
During its lifespan between 1999 and 2006, the former Plazo Bingo Hall in Pallion became a spiritual home for thousands of ravers who would travel from across the North East to soak up the atmosphere. "There was no bar in the entire venue, although you could get water out of the taps. That alone should tell you all you need to know, really." recalls Gibbons.
Inside, clubbers came dressed ready for a night of sweat and hard dancing. Like many dance scenes of the late 90s and 00s, sportswear was high on the list for ravers. But while attendees certainly had an appetite for logos, it wasn't the same brand of high end designer threads that were being worn out to Twice as Nice orOne Nation parties. Instead the open door policy and relaxed dress codes drew in teens dressed in cut-price sportswear: Air Max 95s, McKensie Jumpers, Fred Perry polo shirts, Adidas tracksuits and seasonal football jerseys.
While Grime, Garage and Drum n Bass found commercial value outside of their niche scenes with radio hits as well as artists who found fame and fortune, Gibbons states the same cannot be said for Makina. "Nobody ever got rich at The New Monkey, and nobody ever got rich selling audio recordings of the raves at local market stalls. Nobody ever seemed like they wanted to either, mind, because that's not what it was about."
With a no poser mentality, The New Monkey's floor's were packed with teens embracing the highs of the night in nothing but the same gear they would wear outside daily on the council estates. "There was absolutely no chance of these young "charvers" swapping in their Air Max 95s and McKenzie jumpers for Gucci buckles or those god awful Prada shoes with the air bubble in the heel," says Gibbons. "You could go to these raves in clothes that would get you knocked back from even the city's worst clubs."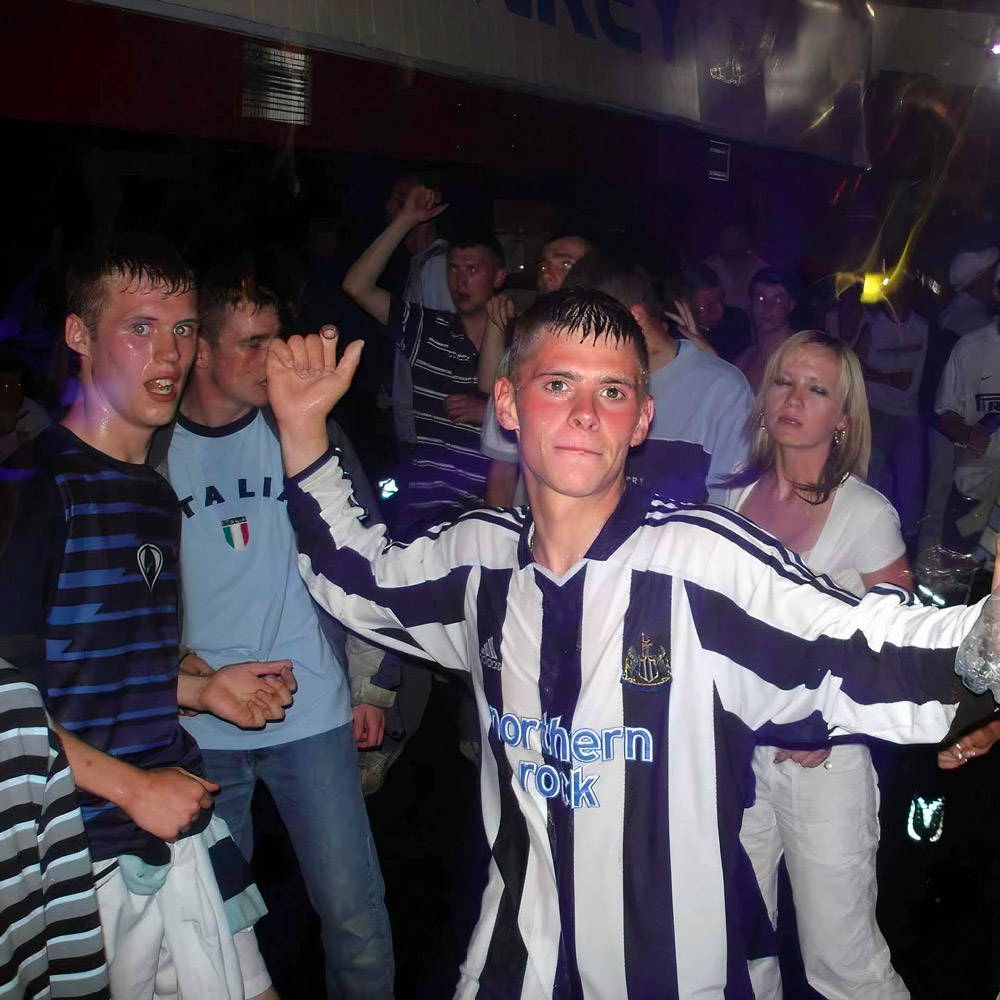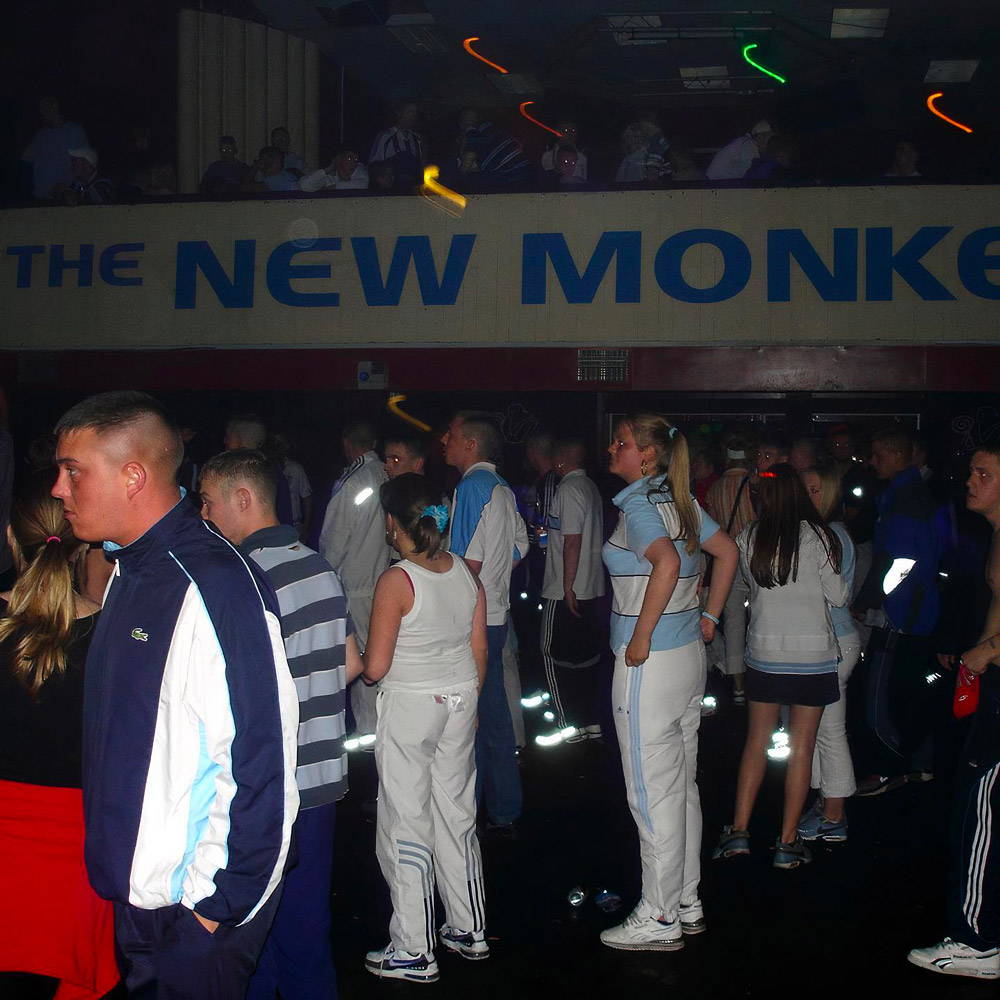 It was this total obsession for the music combined with specific style codes that created Makina's distinctive scene. "It's important to remember that a whole host of people hate makina but will still know it as the North East's sound," Fred Phethean, who MCs under the name Drop Dead Fred tellsVice. "It's definitely part of the identity of a certain kind of person and the voice of the MC is a true representation of the life they lead. Most of the lyrics are about partying, but they also talk about stealing cars, doing drugs and getting chased by the police. Nobody talks about Rolexes, shifting drugs, or pulling women."
More than anything, the club's weekly events, which were even open to under 18s, provided a much needed respite from the terminal decline of industry, unemployment, drug addiction and general depressing awfulness that dominated the region where the scene was based.
"The Makina culture has risen from the areas of highest levels of deprivation," states one voice inBoiler Room's video. "The North East of England has long been an area of economic disadvantage. Traditionally we're built up around large industrial towns, a lot of mining villages and over the years as those industries have gone. There's been massive periods of unemployment and a lot of economic challenges are met by everybody but particularly the young people growing up here. When you've got that kind of backdrop, you really realise how much we need each other."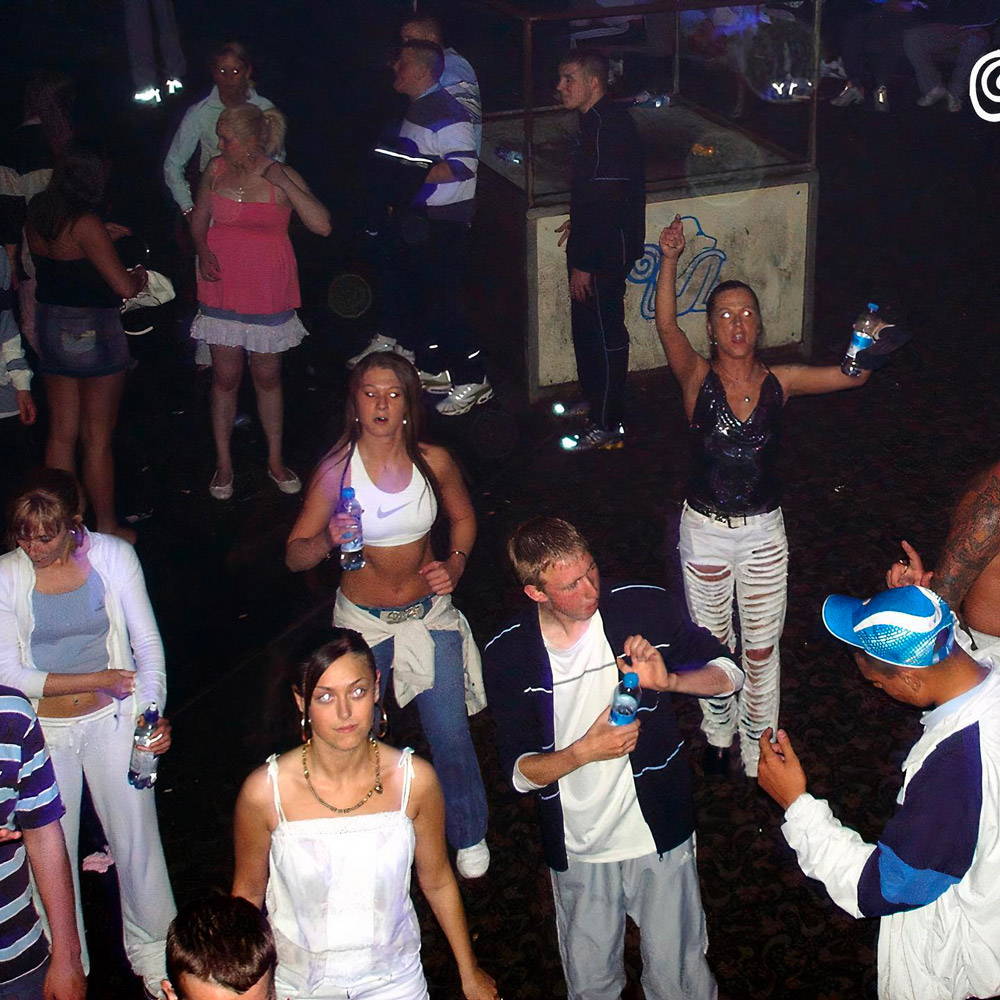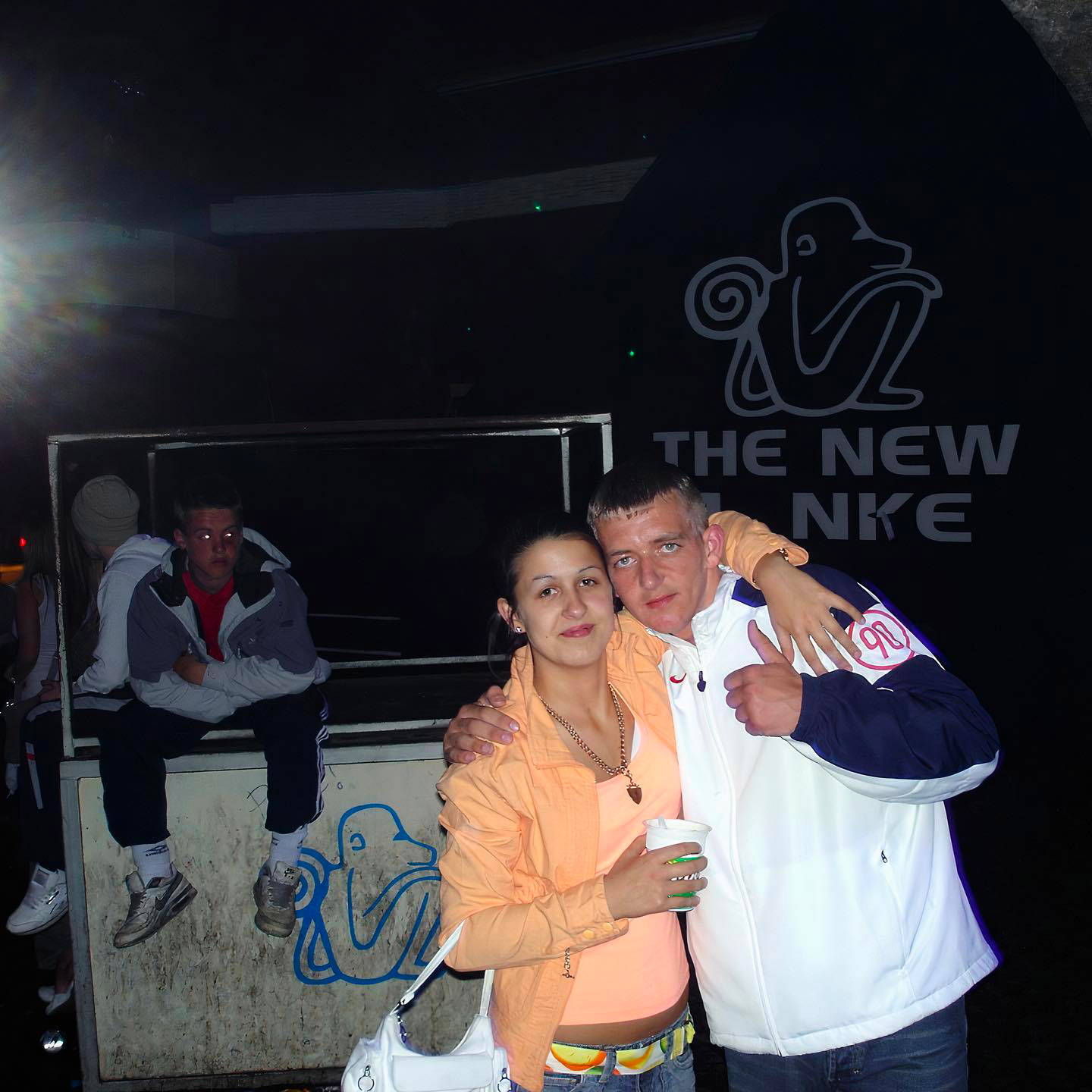 Clubs like The New Monkey became a cultural hub for young people to come together and party in unity. As much as the venue and scene got a bad reputation for its anti-social behaviour, there is a lot of positivity to be found in it too. Take into consideration the lyrics of Paul Megson aka MC Stretch. Paul, from Lobley Hill, came home from work one day to the news that his mother, Dawn, was terminally ill with breast cancer and her condition was deteriorating.
As a teen who grew up with Makina music, he dealt with the heart-breaking news the only way he knew how to - by writing lyrics and belting them out with all his heart. It was during one of the darkest moments of his life that he came up with the lyrics for one of the North East rave scene's most iconic tracks -'I've got this feeling'
In a 2019 interview withChronicleLive, Paul said: "If I am in a rave, the whole place just stops and goes with it, and I think it connects because the words relate to a of the people who are part of the scene's lives. People who enjoy this music, a lot of them come from hard backgrounds and broken homes who have not had the right chances, and these words are words that have meaning to them. They are not charvers, they are people who love music who want to come into a room and let their emotions out."
This approach of hacking into Makina as a means of relieving stress and bottled up emotions was one of the biggest draws for the scene coming together in times of hardship. "It is basically a community thing. When you're there, that is your time. It's like 'this is me', you can be yourself," says one raver in the Boiler Room clip, while another interviewee see's it as a beacon of hope for the region - "we've got nothing else. To me Makina is happiness. I hear it, I smile."
But The New Monkey club didn't run without its problems and complications. The demise of the nightclub came following an overdose. which took place inside the club in July 2003. Garry Henderson, 18, collapsed and died after consuming ecstasy pills. At a later inquest into the teen's death, Sunderland Coroner Derek Winter, said: "I do hope unregulated clubs can take steps to deal more effectively with young people who get into crisis."
This fateful event marked the beginning of the end for the troubled venue. Despite its reputation as one of Sunderland's most notorious nightclubs and a haven for Makina, the increasing anti-social behaviour surrounding the club made it a thorn in the side of Northumbria Police. Many will remember when over 100 officers carried out a full-scale late night raid of the Monkey on March 26, 2006, an event which is immortalised by MC Impulse's "Raid Rhyme". Just days later, using new powers under the Antisocial Behaviour Act 2003, magistrates closed the club indefinitely.
While the late 00s brought on a relative lull for Makina in the wake of The New Monkey's closure, it didn't do much to kill the scene. Over the past decade, the sound's popularity has continued to explode, only this time recontextualized by a new hard dance community with an ear for even more relentless sounds. "The New Monkey was the last bastion of that 90s rave culture with big overnight raves and no alcohol on sale, just kids partying in a warehouse, so the scene could have collapsed because of it closing," Phethean tells Vice. "There were a good few years where there weren't really many events at all, but the YouTube generation have kept it vibrant and relevant"
To receive updates on our latest editorials and documentaries, be sure to follow @oneblockdownon Instagram and subscribe to our newsletter below for more.