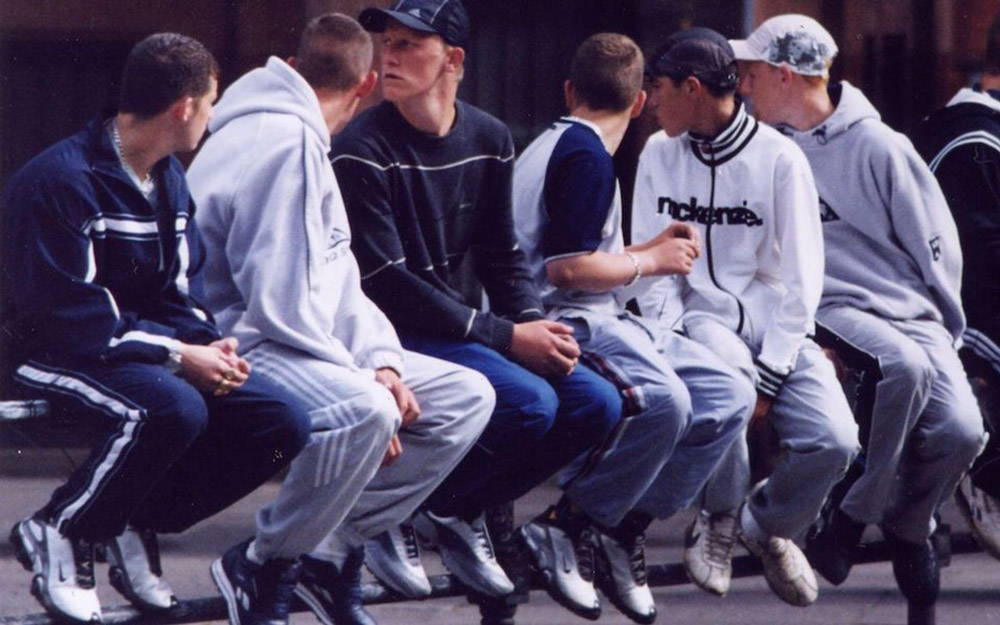 How Tracksuit Became A Symbol of Anti-Establishment Fashion

Along its mission to engage the many great talents from its global network, One Block Down is proud to announce its latest partnership with Instagram page Samutaro. Documenting the figures, movements and products that have shaped contemporary stylistic discourse, the collaboration looks to shine new light on some of culture's most untold stories.
When Skepta dropped the bars "went to the show, sitting front row in the black tracksuit and it's shut down" in his 2015 classic "Shutdown", he wasn't just throwing shade at the elitist fashion industry and his blatant disregard for their dress codes, but rather signalling how the tracksuit and grime had reached the pinnacle of high fashion.
Tracksuits have of course been a staple in grime since its beginnings. You only have to look back at footage from early sessions in basement studios and tower blocks or record shops on the Roman Road, to see how the scene was unified by sporty two-piece sets. Grime was, in part, a rejection of established scenes rendered inaccessible to disenfranchised youth and a battleground for something new and unique to claim in its place. Many of the grime pioneers were able to hear UK garage on the radio and on the street, but the bottle-popping, dress code-abiding clubs were off-limits to kids in hoodies and trainers.
"That affluent 'flash' style that Garage was about just wasn't realistic for many of the kids growing up in London and estates across the UK," says the unofficial gatekeeper of grime, DJ Logan Sama toDazed. "The image of the tracksuit and the Air Max and the caps... that was actively banned from the 'no trainers' policy in most Garage clubs."
Instead a new generation of artists set about creating their own sound and style that was quite literally free from restrictions. Not so much about getting dressed for the rave, tracksuits were uniform for the home and stepping out into the neighbourhood. "These were clothes for comfort, clothes to play Playstation and smoke weed in, and most importantly, for a generation of burgeoning bedroom producers, to sit around and make beats in," explains Sama.
Dizzee Rascal cemented the aesthetic when he donned an all-black tracksuit and a matching pair of Nike Air Max BWs for the cover of his 2003 "Boy In Da Corner" album. Although his fit became the barometer for grime's style, it ultimately reflected what was already happening on the streets. "In 2003, those sneakers and that tracksuit were a uniform for the anonymous stigmatization of urban youth culture, a middle finger to the surveillance era of CCTV," explains Gabriel Herrera in aRed Bull Music Academy article,How Grime Got Its Style.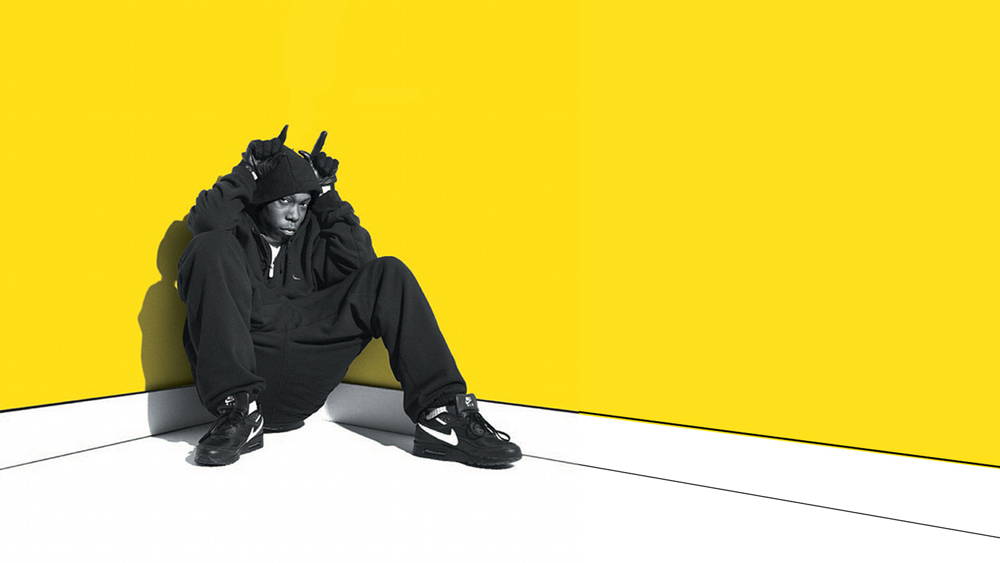 The choice of Britain's disenfranchised working class youth to adopt the black tracksuit as a means to move-low key in a city full of eyes (opps, cops, cameras) was a logical one. Artists like Tinchy Stryder documented this in lines like "trackies black, Huaraches black, all because I want to blend in with night." But by doing so and operating out of sight of the law, it only encouraged the UK government to equate trackies with the antisocial. Soon enough the garment fell victim to extreme politicisation and was often associated with violence and crime. In 2006, David Cameron gave his infamous "hug-a-hoodie" speech to illustrate widespread sentiment - "we -- the people in suits -- often see hoodies as aggressive, the uniform of a rebel army of young gangsters"
The young aggressors Cameron was speaking out against weren't just limited to low-income areas in London, but rather a nationwide movement of youth. In fact Skepta cites the whole black tracksuit look he adopted in 2015 down to his peers in Manchester and Liverpool. "When I was on the streets out here, that's where I just learned all this style, says Skepta in aRedbull Music Academy Lecture. "I used to come up here in Air Force Ones and they used to be like, "Yo, why you wearing them fucking Yankee craps. Yankee trainers?" They made me switch up that whole shit and get into shocks, into black windbreakers."
Speaking on the stylistic differences between London and the North, Skepta explained that "London always gravitated towards Americans, whereas up North I think they just, like — it's just greasy up here, innit?" he said. "The dress code is like "get this money"...it's just all black. There's windbreakers, tracksuits. You're getting me straight grease. Hats down low, curved peaks so they can't see, man, you get me?"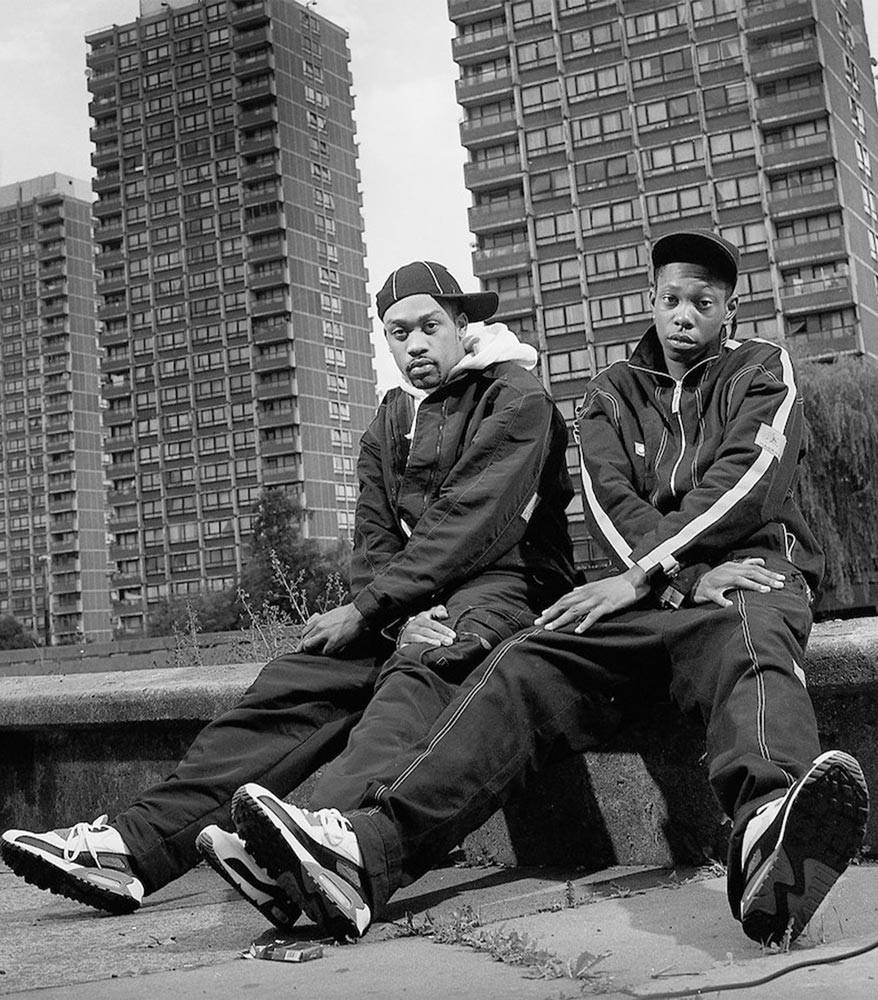 It was this reaffirmation of British style codes coupled with grainy Channel U style videos that helped Skepta almost single handedly put Grime and its signature uniform back on the map in 2015. That year, together with his "tracksuit mafia" team and newly penned partnership with Nike, had kids from London to NYC and Paris dressed like they "just come from P.E."
Skepta and his SK Air collection wasn't the only one to be pushing the look though. During that period, tracksuits and sneakers had exploded in almost every part of fashion. NYC skate brand Supreme had hypebeasts dressing in velour sets like they'd just stepped off the set of Sopranos. Palace had successfully reappropriated the tracksuit as a uniform of British council estate kids or "Chavs" to become a staple for skaters. Skepta famously walked in Nasir Mazhar's Spring/Summer 2015 show—with the collection, as a whole, being an ode to the roadman look. Russian designer Gosha Rubchinskiy took a similar approach in his 2018 Adidas collaboration which paid homage to the three-stripes place in post-Soviet Russia youth culture, specifically "Gopniks" and the first raves after the fall of the Iron Curtain.
Although we might think of these subcultures as being distinct phenomena in their respective regions, in reality they're local manifestations of a global one. "Every country in Europe has its own colloquialism for this subsegment of working class youth," explains Aleks Eror in aDazed article onthe international ubiquity of the tracksuit. "In France they're called "racaille." In Russia it's "gopnik." "Dizelaši" in Serbia. They exist under various monikers all across the old Eastern bloc, and are even found way down in Australia in the form of "lads" or "eshays."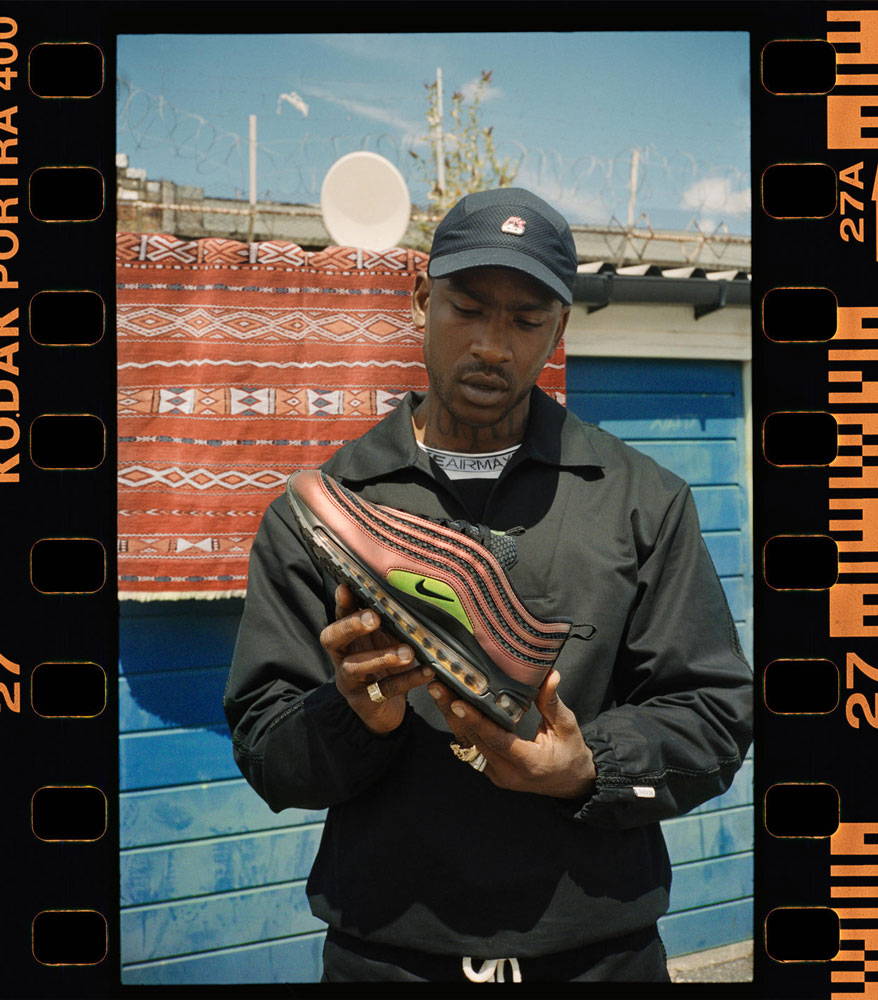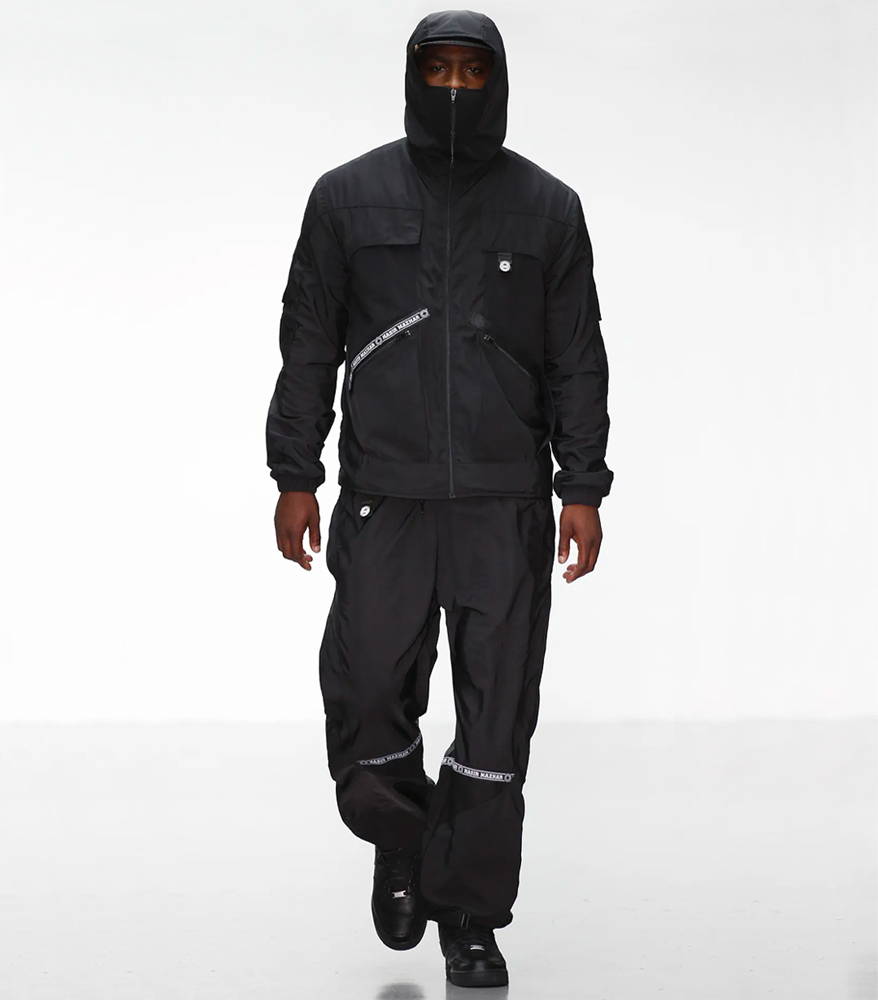 Despite their differing names and unique geographic locations, each of these youth culture subsets are unified by an almost standardized appearance: tracksuits tucked into white socks, sports sneakers and ubiquitous Nike caps. Eror highlights that there are of course specific brand preferences in each region. "Racaille, for example, tend to wear Lacoste. In Russia, Adidas is king. Down under, it's striped Nautica polo shirts and Nike TNs. Serbia's dizelaši used to wear Nike Air Max BW's or Reebok Graphite Pump's paired with Kappa shellsuits."
It's the tracksuit's ability to transcend national borders and be appreciated so widely as a symbol of working class aggression that has made it so popular. Kanye West showed love for the British tracksuit culture when he performed "All Day" at the 2015 BRIT Awards flanked by a who's who of grime dressed in all black, baggy cuts, hoods up, balaclavas on. Theskit on Skepta's "Shutdown" perfectly encapsulates what white middle class Britons had come to fear when seeing 30 goons on stage on national tv. While the performance was deemed intimidating, it also put a spotlight on the way the streets dressed in U.K.
Drake would later tap into this same roadman culture when he partnered with Netflix to present the long-awaited third season ofTop Boy. The 2019 show revealed how the roadman aesthetic has evolved over the last decade. For the most part, little has changed. Hoods are still up, jackets are still puffy and sportswear still reigns supreme.
Mathieu Kassovitz's 1995 film, La Haine, is perhaps another great example of how the tracksuit has manifested in popular culture. The timeless uniform – tracksuits under coats – of the three heroes is precisely the anti-luxury luxury that continues to be obsessed over in menswear. Kevin Soar of Highsnobiety believes continued relevance of the film's style is down to sociopolitical factors. "La Haine has a resonance for its style and its political context," he tellsThe Guardian. "The film remains relevant by focusing on the relationship between the police/the government and working-class suburban youth, as there will always be a struggle between young people and the police in most big cities around the world. The consistent look between groups of people, and especially young people, is an important statement – it's not just about looking good, but also saying 'We are one.'"
He also compares the film's wardrobes of which includes mid-90s classics like Nike, Everlast, Reebok and Lacoste to what was happening in casual culture a decade earlier - "in casual culture, there was a term called 'upping', where men would try and get the best Sergio Tacchini or Fila tracksuits."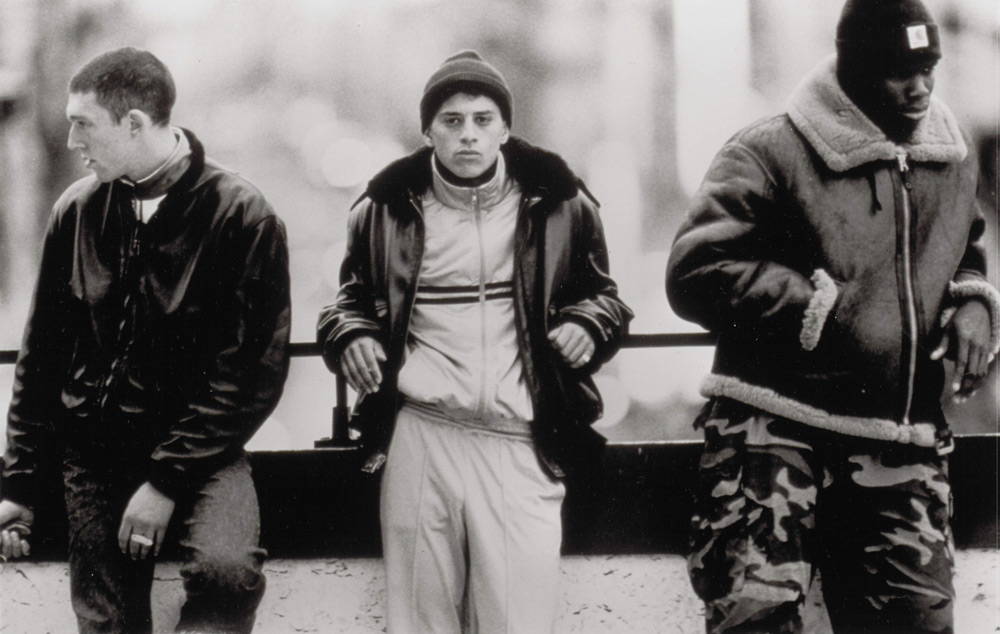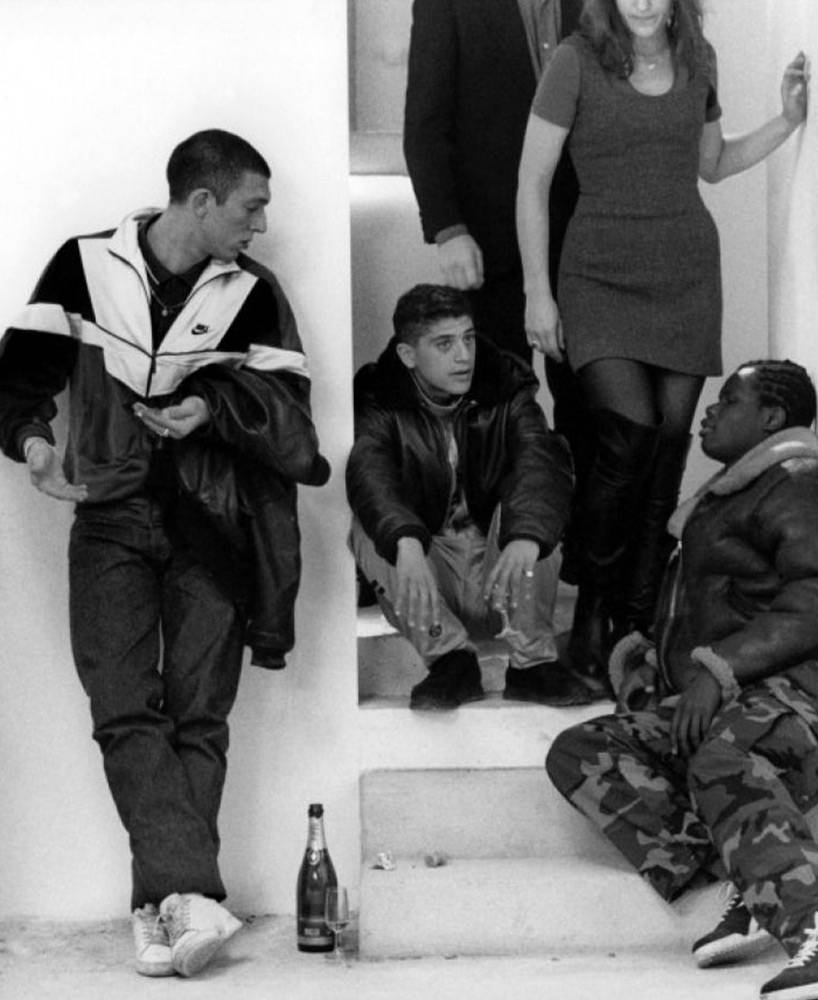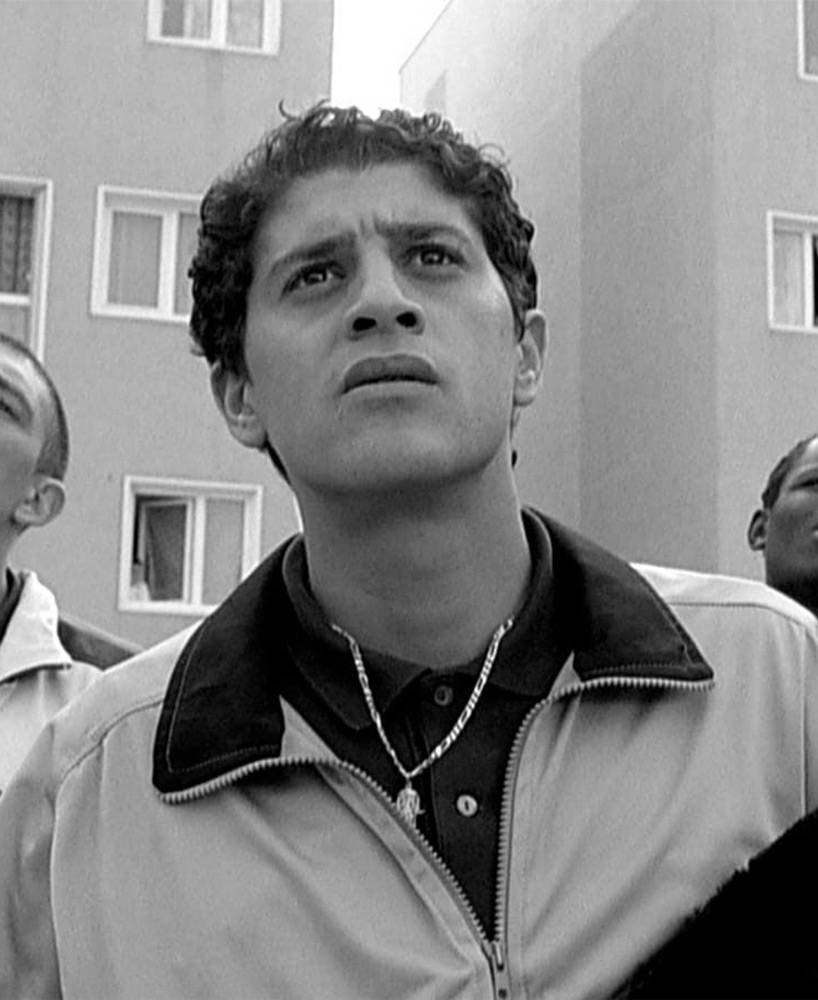 But it wasn't just football fans with an appetite for expensive Italian threads that helped spread the tracksuit across the world. It was during the running boom in the mid-70s that the tracksuit took off from the running track and became a commercial success in America. A decade later a nascent wave of African-American celebrity jocks would inspire NYC break dancers and hip-hop acts like Run DMC to recast the style into a template for modern streetwear. But, while the tracksuit represented an expression of elevation and distinction in America, in Europe the item gained popularity at a time when widespread deindustrialisation decimated traditional working class communities, jobs, and lifestyles, particularly across Britain.
"There's some grim irony in "leisure wear" becoming the de facto uniform of the people the post-industrial revolution dumped out of jobs; trapped in a relentless cycle of full time, enforced, leisure," says Eror. "These garments became associated with petty criminality at a time when the people wearing them were forced into taking drastic measures to get by."
In a paper titled From Revolting to Revolting: Masculinity, the politics and body politic of the tracksuit,Jo Turney, a senior lecturer at Bath Spa University, explains that the tracksuits associations with crime might have something to do with the physical qualities of the item itself. "The bagginess of the suit, combined with its elasticated waistband/zip jacket (and possible front hand-pouch) offers the potential to conceal goods and thus act as a foil for theft. Likewise, the baggy trouser, combined with the gait with which they are worn, have frequently been associated with the concealment of weapons."
Perhaps this is part of the reason why Sopranos screenwriter David Chase and the shows costume designer Juliet Polca chose to dress mob members like Tony, Paulie and Christopher Moltisanti in loose fitting sets from the likes of Fila, Genelli and Champion. Sportswear has a strange history in Russia's criminal underworld too. It's said that in the 90s, a lot of former athletes were recruited as bodyguards for criminal bosses, many of whom would often be seen in the streets wearing their usual sports gear. It was these henchmen that would inspire the uniform of gopniks — the squatting subculture that remains at the core of lingering stereotypes of eastern Europeans.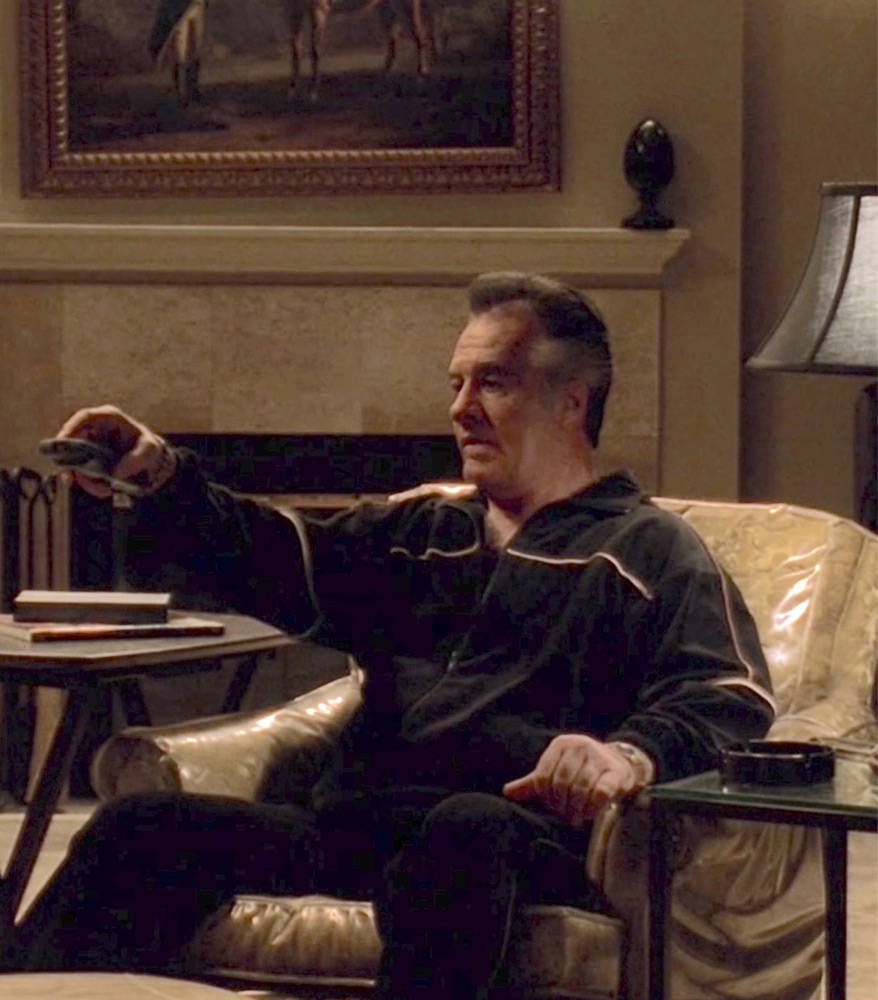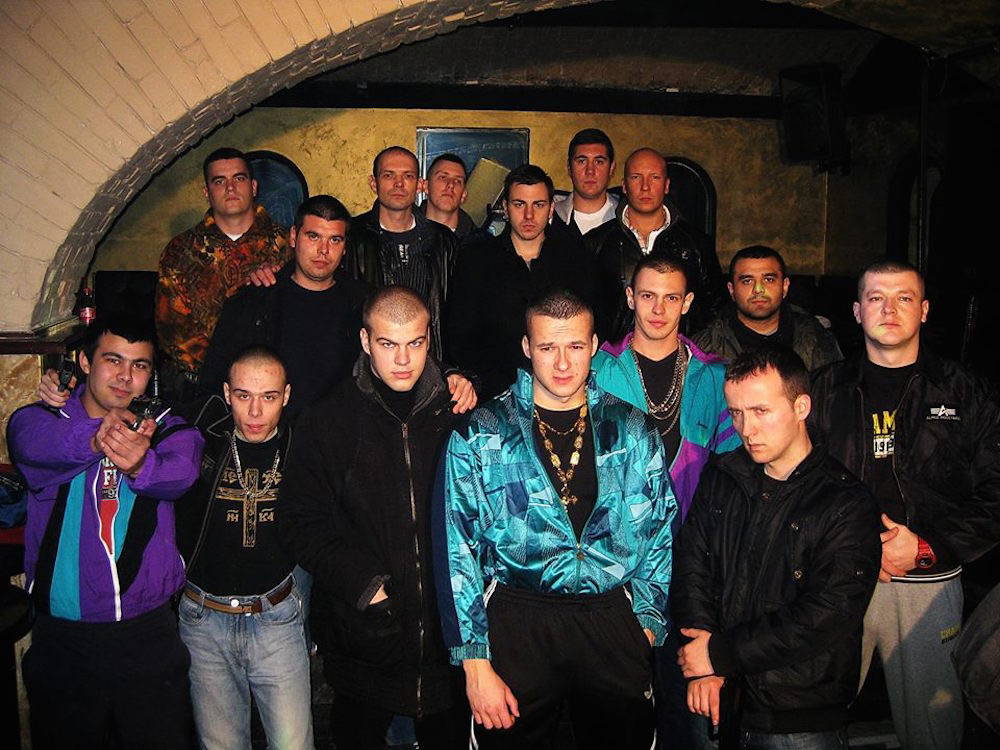 Today, the tracksuit has become even more ubiquitous than ever before. The global COVID-19 pandemic's lasting impact on fashion made the tracksuit one of its biggest legacies. Even before lockdown, the tracksuit was making headway into popular culture through elevated takes by brands like Needles, Gucci and Fear of God's Essential range. But after 18 months of shelter-in-place and a series of Squid Game later it has been near impossible to find a brand that doesn't offer coordinated sportswear.
Even as we reach a place in culture where dress codes are relaxing and sweatpants become more commonplace in everyday wear, the tracksuit remains an item that is rooted in subcultures, resistance, and re-appropriation. Influential designers like Balenciaga's Demna Gvasalia prove that its casualness and flexibility still snubs the formality and the rules of any corporate event.
In September he accompanied Kim Kardashian on the red carpet at the MET Gala dressed in a menacing full black tracksuit with the hood up and a full facial covering. The theme of the event was American Fashion and Kim K took to Twitter to explain how her outfit was on theme stating: "What's more American than a t-shirt head to toe?" The same could be said for Gvasalia's hoodie and sweatpants.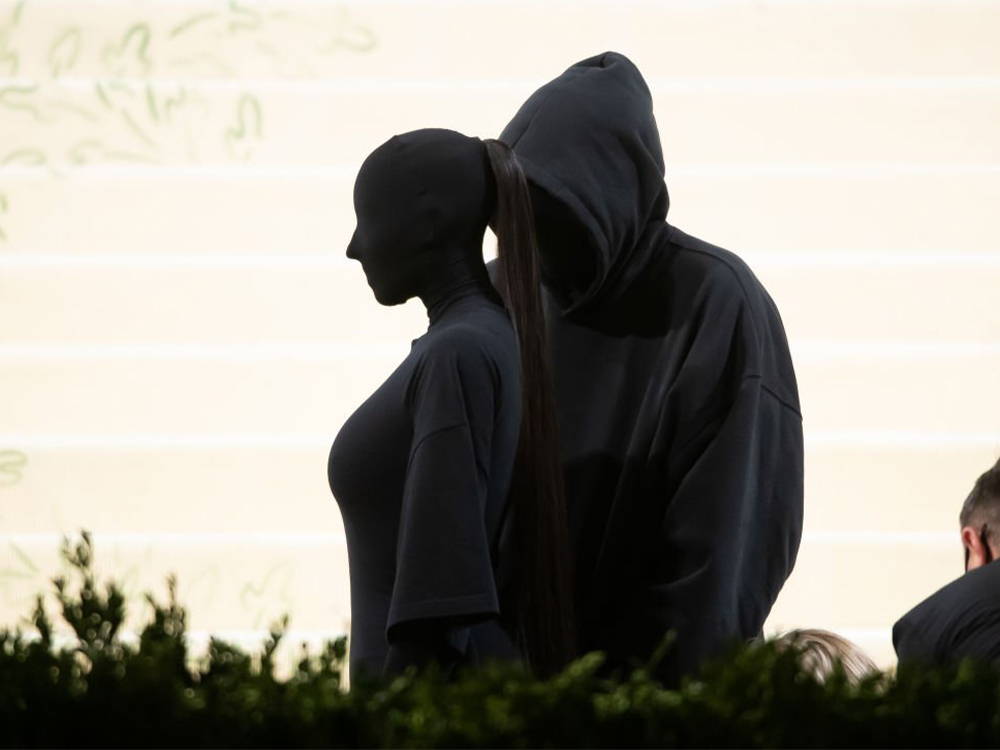 Critics said that this look on Kim is like a new subculture and fashion statement. No logo, no face, but everyone knows it's her. Kanye West pulled off a similar stunt earlier this month too when he sent a gang of Kanye clones to march around Manhattan in black tracksuits, YZY Gap jackets and prosthetic masks to tease the deluxe version of DONDA. Ye had been photographed wearing a similar outfit himself during recent outings, including during his meeting with Donald Trump's former lawyer Michael Cohen, to "protect his identity".
At a time when even the world's most famous celebrities want to move low-key and assert a degree of privacy in a society full of praying eyes, the tracksuit might have become the perfect anti-fashion antidote. The garment has been a symbol of rebellion for young people around the world for decades, so why not keep in tradition and wear it as a way to shun the entire fashion industry. After all, what's more, mundane than blending in?
To receive updates on our latest editorials and documentaries, be sure to follow @oneblockdownon Instagram and subscribe to our newsletter below for more.