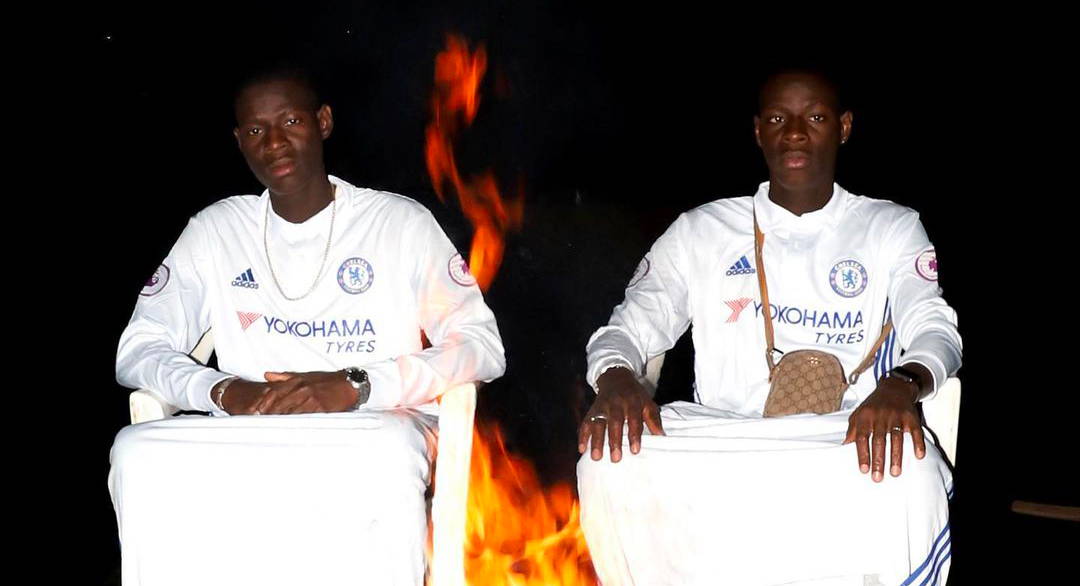 "Champions League Koulikoro" - A Conversation with @emilesamory on European Football Culture in West Africa.

The One Block Down editorial archive is an ever-evolving resource detailing the cultures, movements and ideas that defined contemporary stylistic discourse. From unique takes on today's leading pop-culture topics, to off-kilter stories that might have slipped through the net, our editorial archive is as fundamental as it is abstract.
As Africa and Europe's history has been intertwined forever, it's not strange that something like European Football culture became so popular in the African Continent. To better analyze this, we met Émile-Samory Fofana, a 25-year-old Parisian-born artist who created the project "Champions League Koulikoro."; a project that aims to highlight this culture, its meaning, and what separates West African football culture and their relation with football jerseys from any other part of the globe.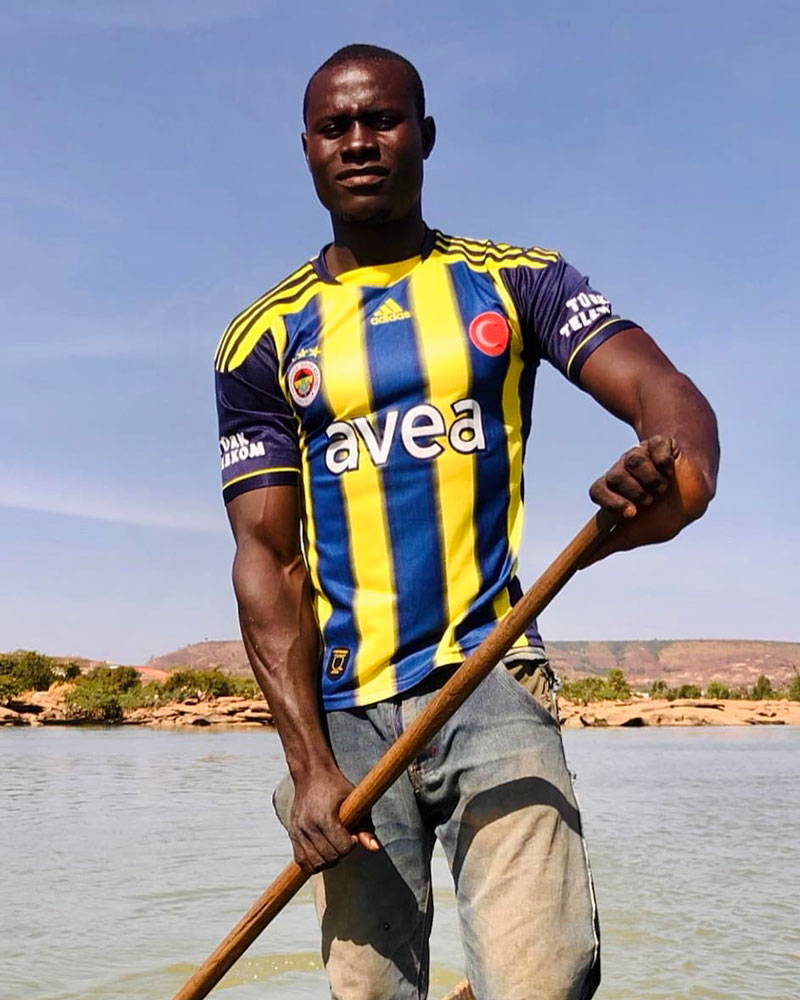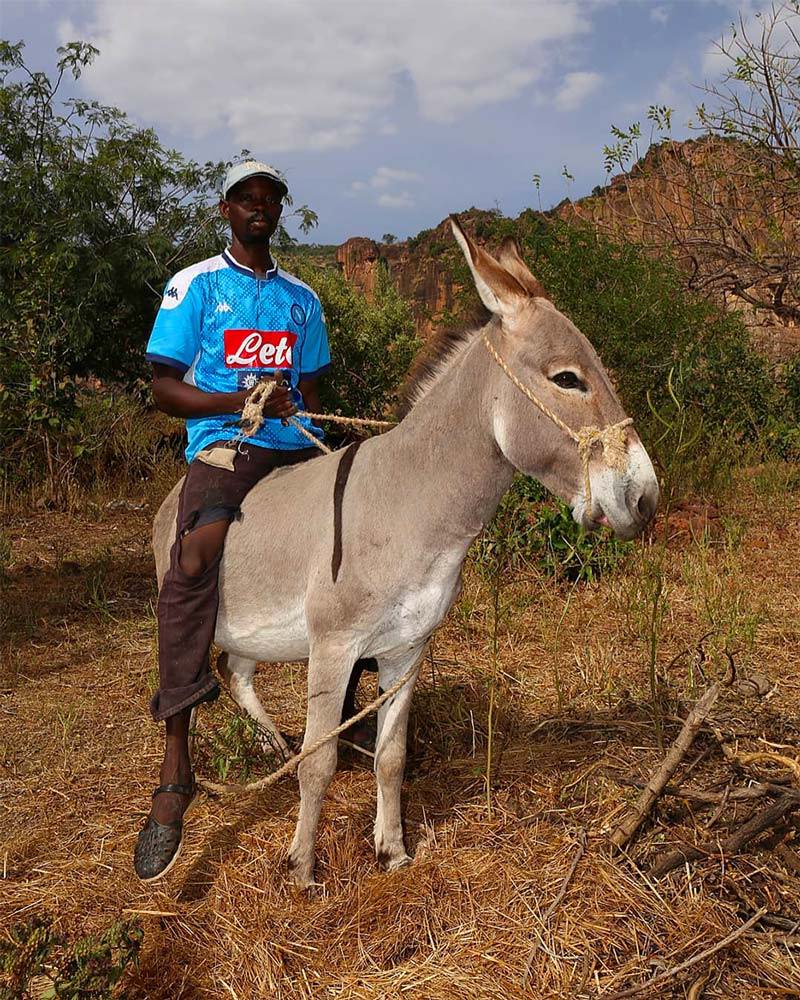 Hey Émile-Samory, for those who may haven't heard of you before, please introduce yourself and tell us a little about what you're generally doing.
My name is Émile-Samory Fofana; I was born in 1996, close to Paris, in the suburb in the East of the city, in a French-Malian family. I've been documenting the rise of European football shirts in West Africa for the past years. My series Champions League Koulikoro celebrates the influence of the prominent European clubs in that region.
What is your goal for this project?
My goal is to point out and report all the different aspects linked to European football. Still in this territory of West Africa, it carries an assortment of symbols and signs, and I think the work is more on the symbolic aspect of it, the logos, the names of the players, the teams.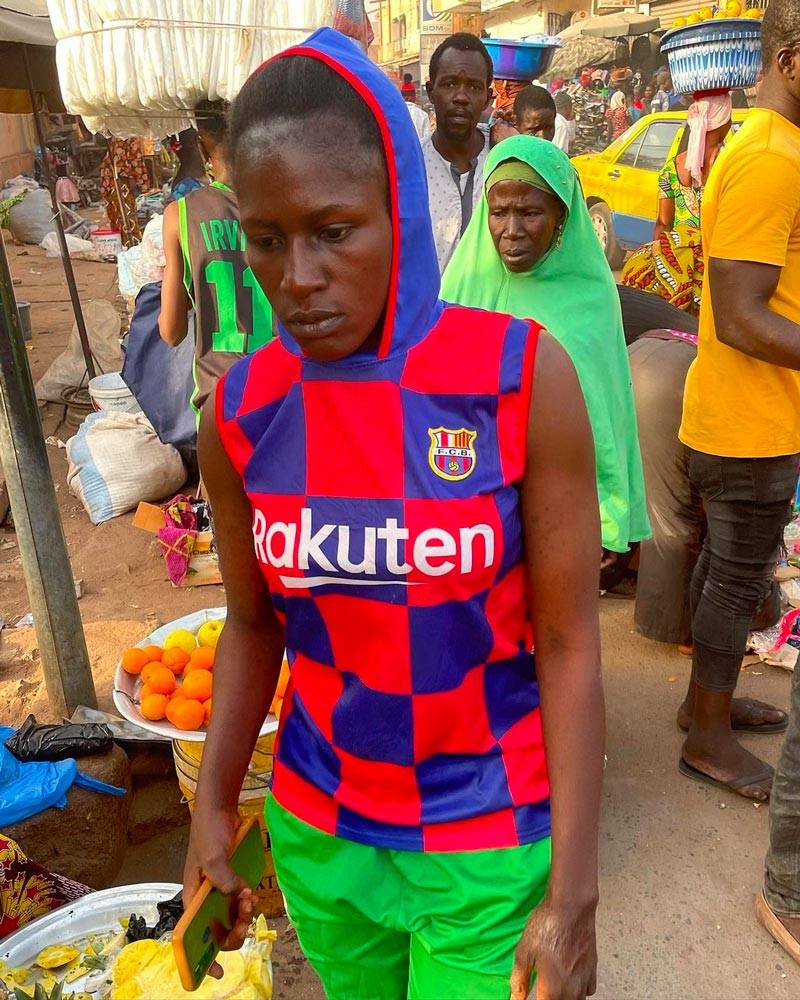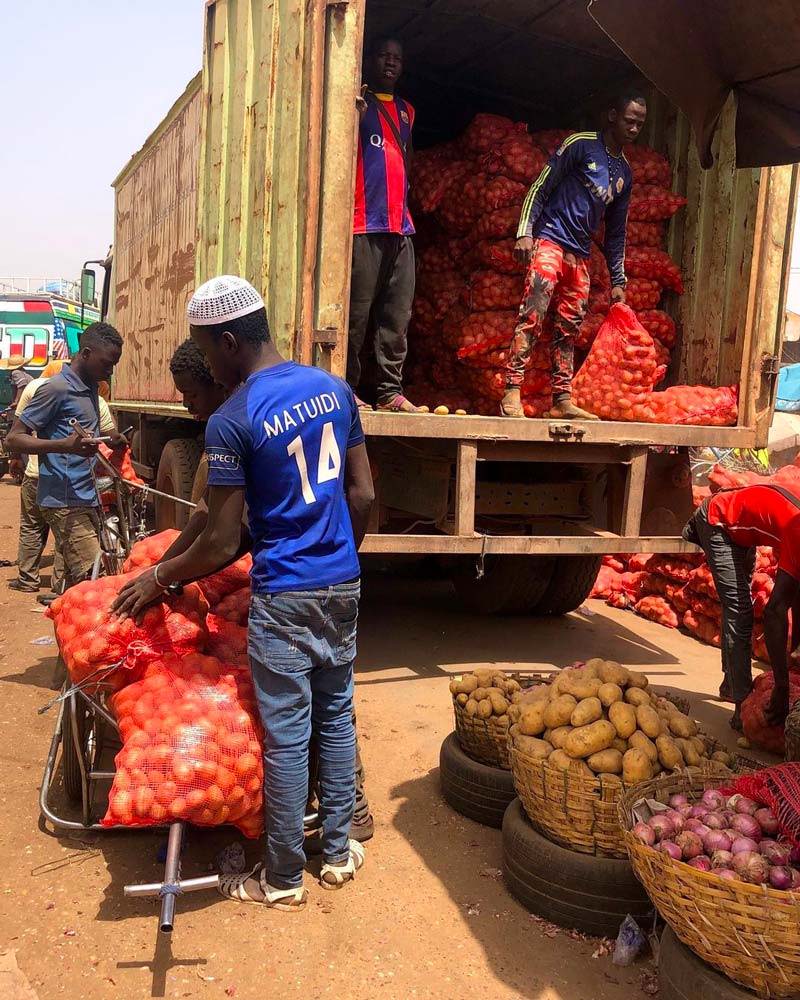 When did you start to get involved in football?
I was into football from a very young age; I never played because I was shit, haha; I prefer boxing. But since I was a kid, I was a PSG fan since my cousin was a trainer for the PSG Foundation, which aims to support young people and communities in difficulty by developing educational and sports programs in France and abroad. He's the one that gave me the love for the club as well as gifting me collector jerseys, like the 2003-2004 "Thompson" one.
What does football mean to you personally?
Football acts as a bridge between my two continents. To this day, it is one of the major topics I discuss with my family, wherever I am. Each of us supports a different team, which leads to a lot of trash talk on WhatsApp groups. Also, when I was a kid, I used to go to Mali during the Holiday period, so I have my best football memories there, I could play all day, and above all, I had time to watch four games on the same day, this was precious. For me, «Football» itself is like a form of total art, with its own codifications, imagery, and will to produce beauty, attract crowds, as well as its business aspects with its market, transaction, and auctions. It's like it has it all.
You've received a lot of attention due to your visual documentation of European football culture in West Africa. When did you become aware of the West Africans' love for European football? What was the initial starting point of your project?
I was 12 months old when I went to Mali for the first time. I continued to visit my family in Mali very often. The more I visited Mali, the more I noticed football jerseys on the street. I started Champions League Koulikoro to keep track of this "jerseyfication" in North Korofina, my neighborhood in Bamako. My project extended to the neighboring areas along the Koulikoro road: Bagadaji, Bankoni, Sotuba, Missira, Dielibougou, Boulkassoumbougou...
I've always been amazed by the interest we, West African people, have in this game. You have to be in Bamako during a Real-Barça match to understand. There's this rivalry between each supporters group, but also this care and brotherhood spirit.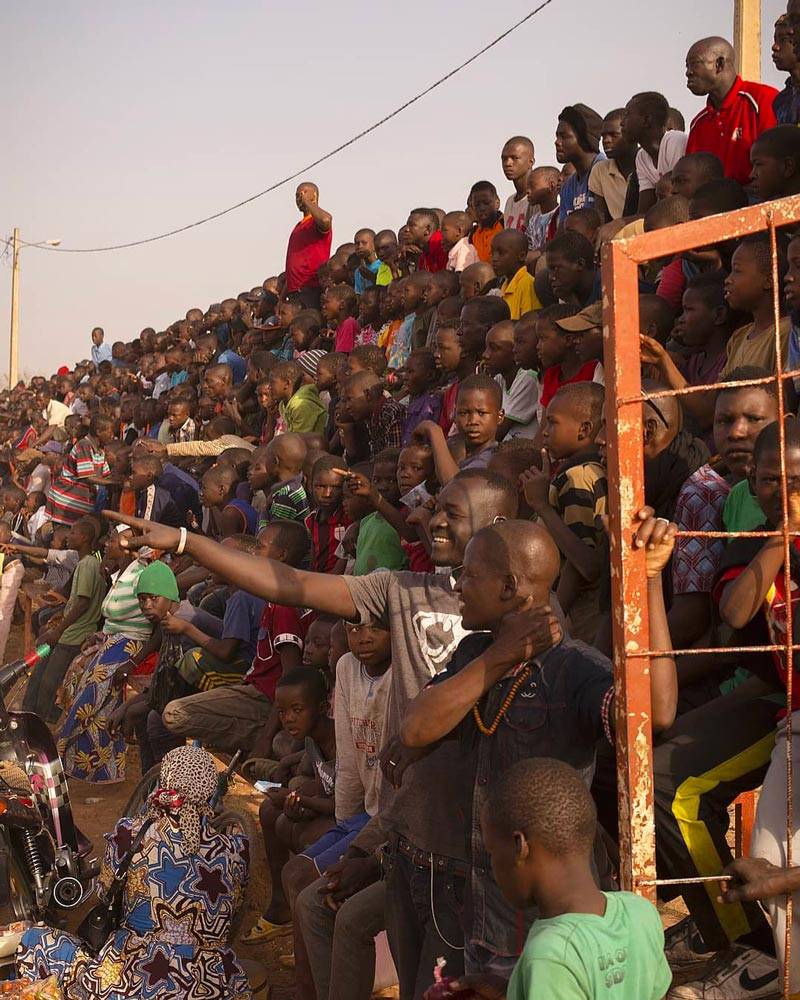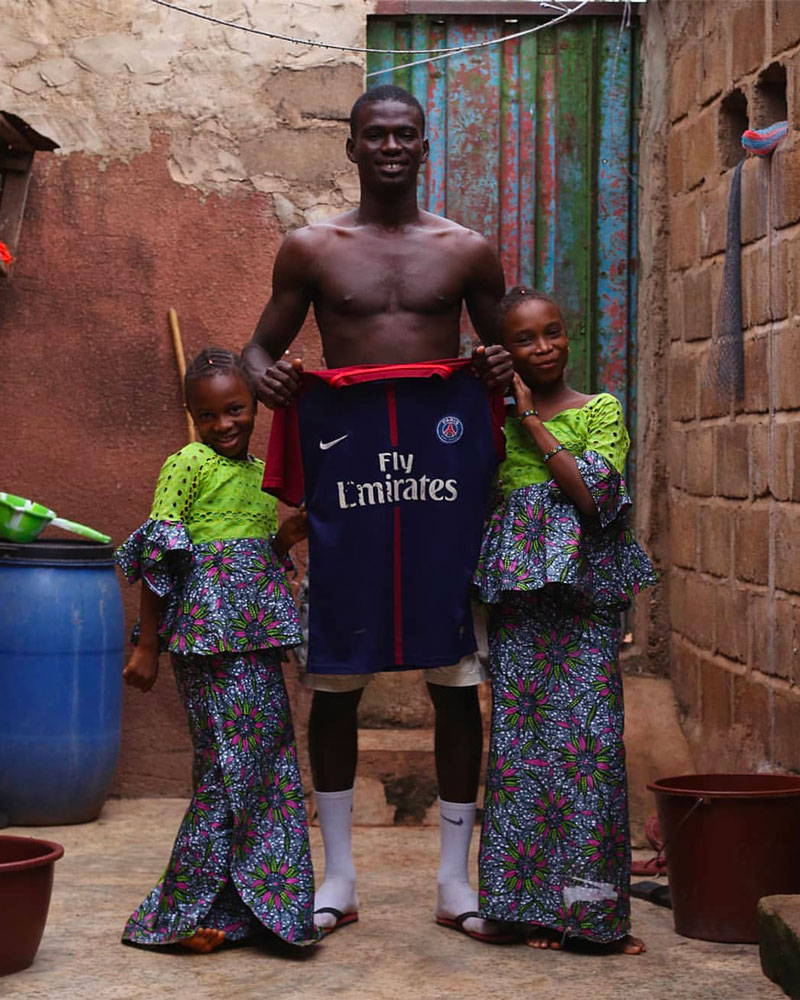 Do you think there are differences between how football is perceived in different parts of Africa?
Well, I know it's the same, but I can talk only about the countries that I know so, for example, I can't speak about Morocco, Algeria, Congo because they are not countries where I have spent time in, so I feel like I have no role in talking about it in an interview. Still, I know it is the same as I have friends from North Africa, Central Africa, and East Africa. I'm sure it is the same, but I prefer to focus on Senegal, Mali, Guinea because these are places where I have family and friends, so it is easier for me to speak about these countries and interact with the local communities.
Is there any particular rivalry between African national teams? I saw, for example, for the last African Cup of Nations, there were a lot of memes about the fact that most Africans were supporting Senegal against Egypt?
There are many rivalries between states near each other, such as in Europe between Italy and France for example. Mali - Guinea, Morocco - Algeria, RDC - Congo, Nigeria - Ghana, etc. Also, like in Europe, these rivalries can have a political and historical taste that can make them very intense I think.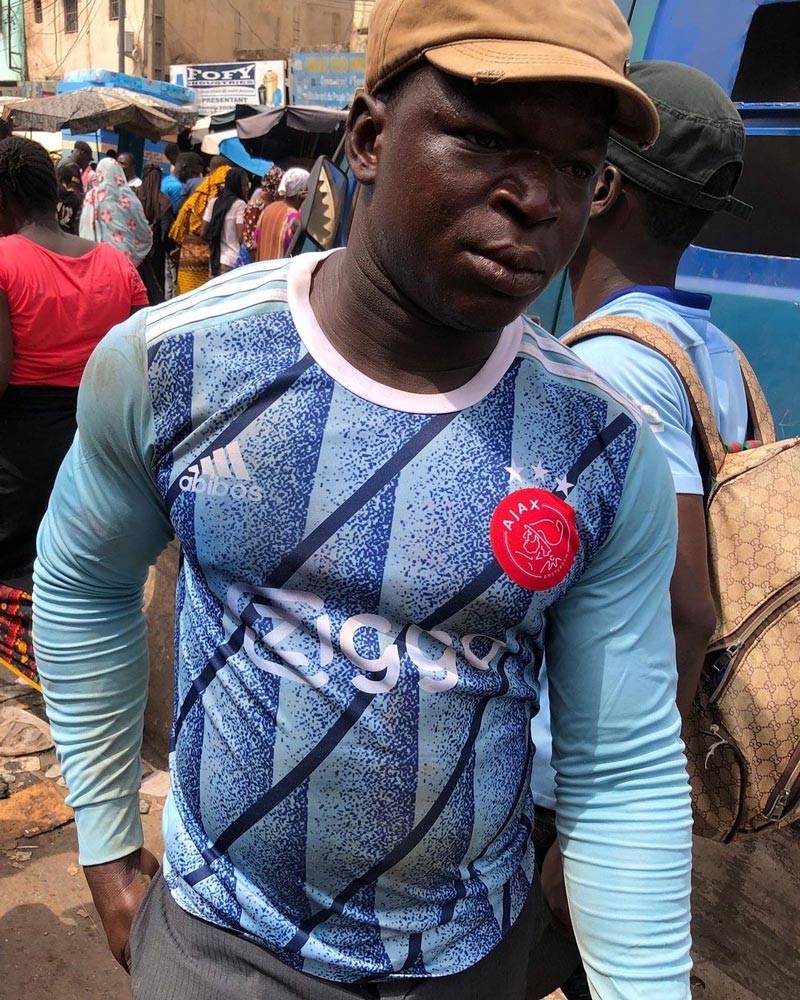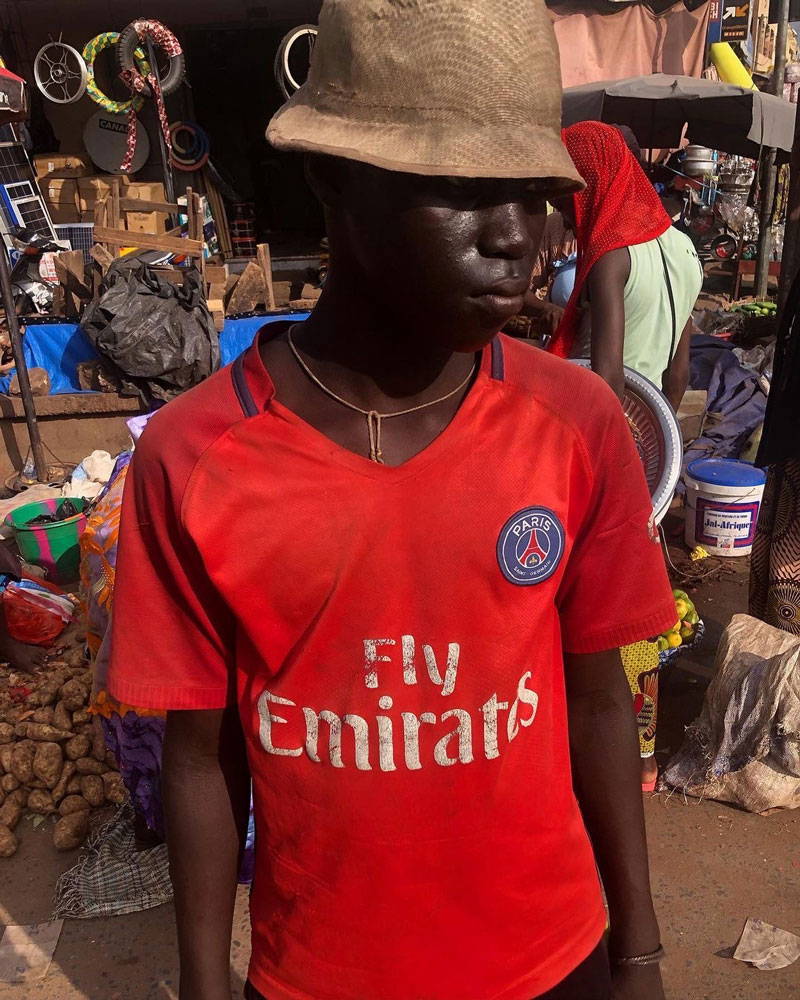 How would you describe West Africa's relationship with European football clubs? What does the sport mean to the natives there?(Does the fact that the African diaspora's athletes largely dominate the leagues impact the Africans' perception?)
From what I know, West African youths view football as one of the only options to make it in life by becoming a football star. There is clearly an identification process towards African Players such as Weah, Diouf, Eto'o, Drogba, Mané, or Salah, which lead to this common dream. In the West African countries, I know – Mali, Senegal, Ivory Coast, Guinea, Burkina Faso – the school system and the labor market make it hard to imagine a successful life without football. For a Malian kid, a contract with a professional club means obtaining a visa, traveling abroad, and sending money to support his family. For a European kid, it is effortless to travel to Africa, but for an African kid, it is practically impossible to obtain a visa for Europe. The dream has a political and economic aspect that reaches far beyond the glory and easy lifestyle. If football can be a plan for the future, it has an unequaled value. It plays an enormous part when growing up as a Black African Muslim man, for example.
Football fills your time, your mind. It sets a goal and objectives. It structures your life, as well as family or religion, do. It helps young African men keep their mental health. There is very little concern for young men's mental health and even less for young Black men, less for that of young Black African men, and it is essential to acknowledge this role as a medicine.
Do you think there has been a moment when kids in Africa saw these possibilities, such as when George Weah became the first African player to win the Ballon d'Or?
This may have started when African players made it to the top clubs in Europe with important roles, not just playing for the team but being a pillar of the club. I'm thinking about Yaya Touré, who represented the DNA of Manchester City. He's the one for me, but I'm sure everyone has their own example in mind. This made African youth identify themselves with these players and create this dream, wanting to be part of it.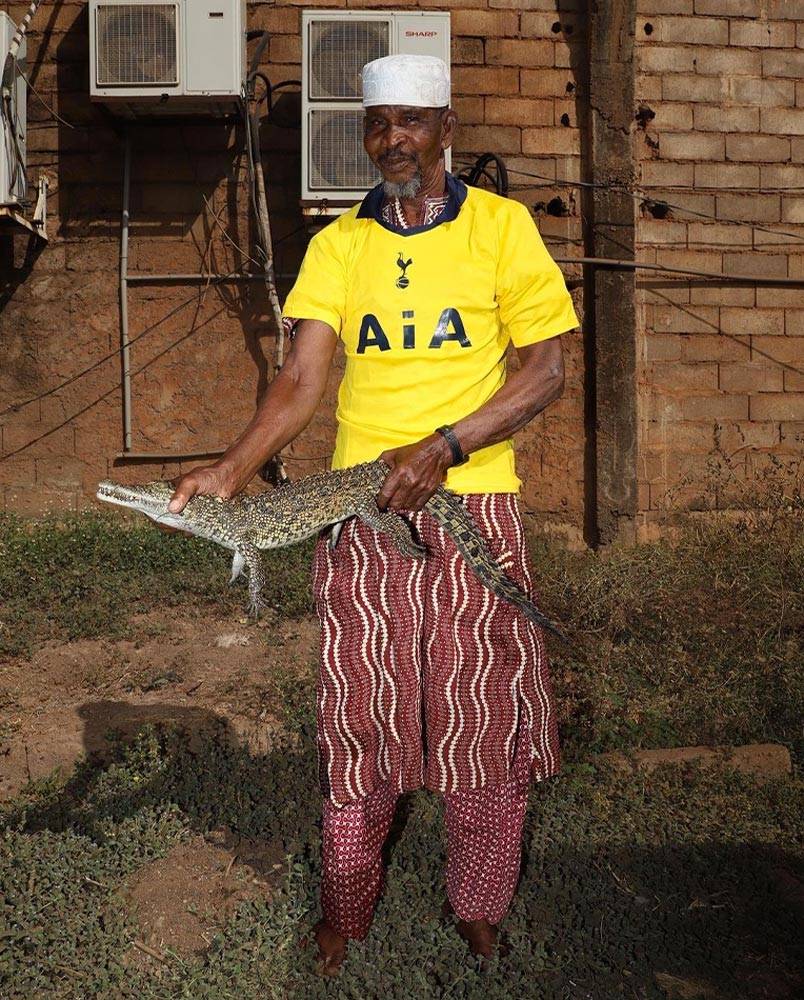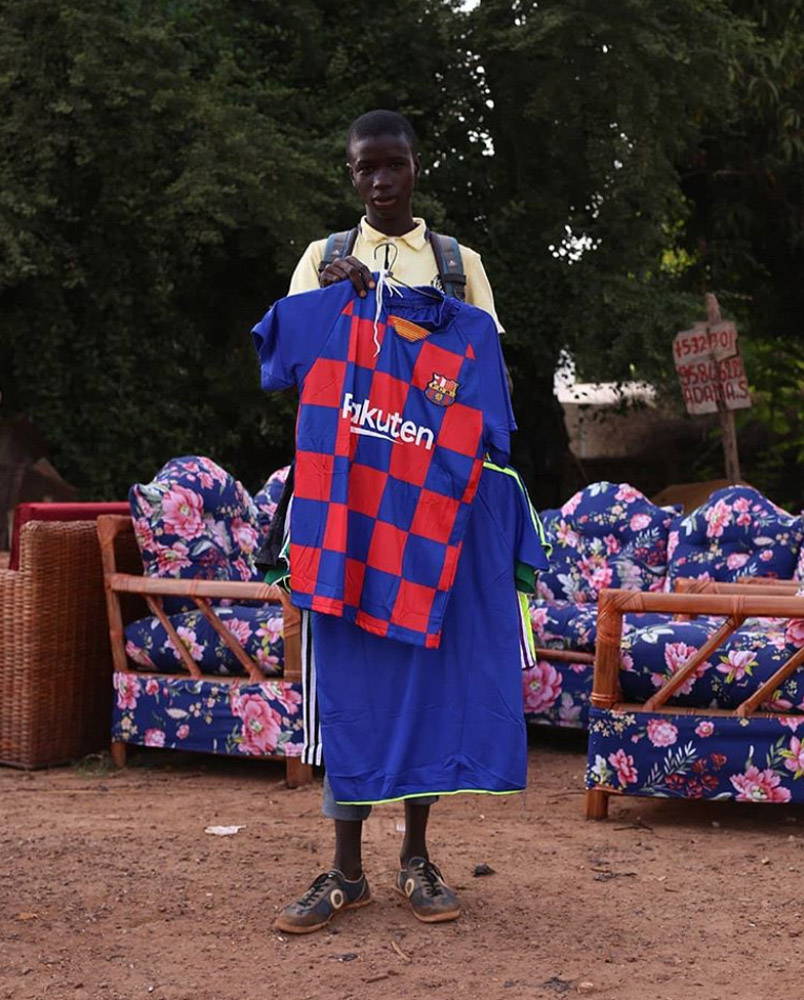 Do you see recently an increase in players playing for their own country compared to looking to play for a European national team to have more chance of winning the World Cup or other tournaments?
It depends if you are talking about nationality, places growing up, or parents' nationality. You are talking about "own country." The reality is that many players have two "own countries." I think it didn't change a lot; it depends on where you grew up. For example, Adama Traore's parents are from Mali, but he was born and grew up in Spain, so he chose Spain. Malians have been very hard on him for this choice, but for me, it is expected since he spent all of his life in Spain. You also have counterexamples, such as Mahrez, who grew up and was born in France but decided to play for Algeria; I think it is above all a heart choice.
What specific role does the jersey play for people, and what does it represent within their communities? 
The jersey is the expression of the passion for football. It is what best represents this commitment. As an object, it carries a variety of signs and significances. It can be used as a simple T-shirt, as a fashion statement, it can have a technical use as a sports garment, it can be used as workwear – lots of workers on construction sites in West Africa wear football shirts. It can be given as a present to share the passion for a club, and thus carry more feelings. It can simply show support for a team. Overall, the essential aspect of this garment is that it conveys a sense of belonging to a community and sharing an aspiration. All the clubs have a solid fan base in Korofina, but the two leaders are definitely Barça and Real Madrid. The Classico games generate such a craze that Europeans would hardly imagine. Liverpool, Manchester United and Olympique de Marseille are also very popular. Their games lead to a lot of talk in the neighborhood. The Champions League Koulikoro project was designed to show the importance of this community in the public space daily. This is not only about sport.
Are they supporting specific teams and only wearing the team's jersey they support?
Of course you have hard-core fans who wear a specific team's football jersey to show their support. But as I said, sometimes the football jersey is just a simple garment without any symbolism. So, for example I already saw people supporting Barcelona but having Real Madrid jerseys because in that case it's just any other t-shirt and they just like the design.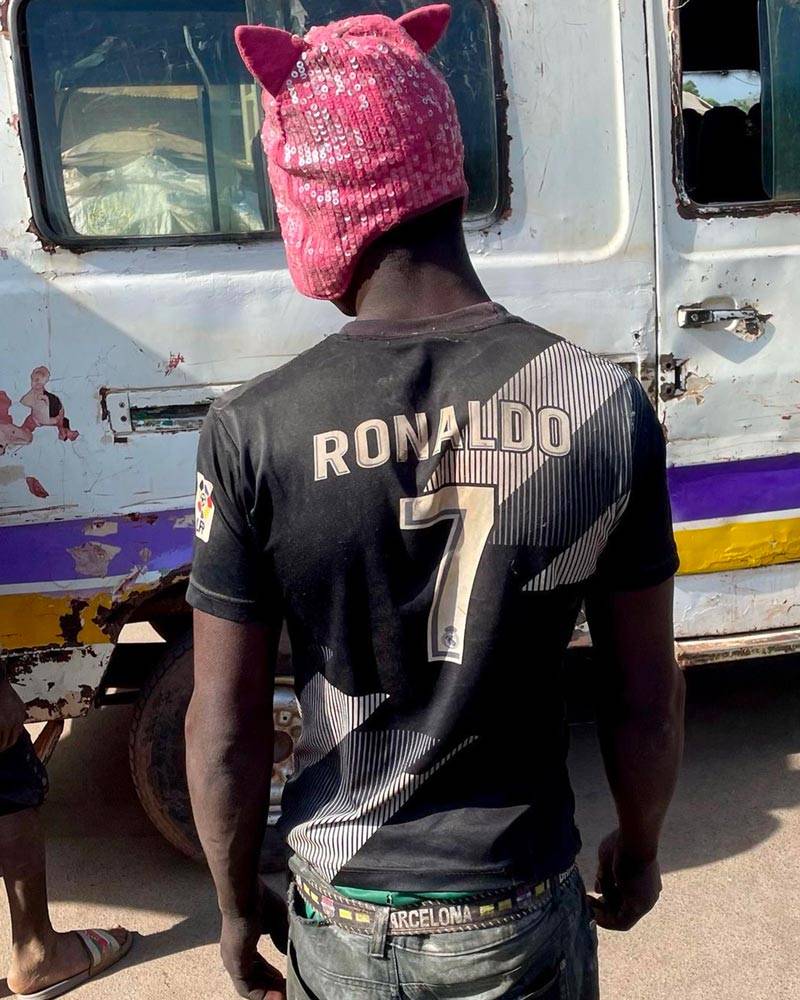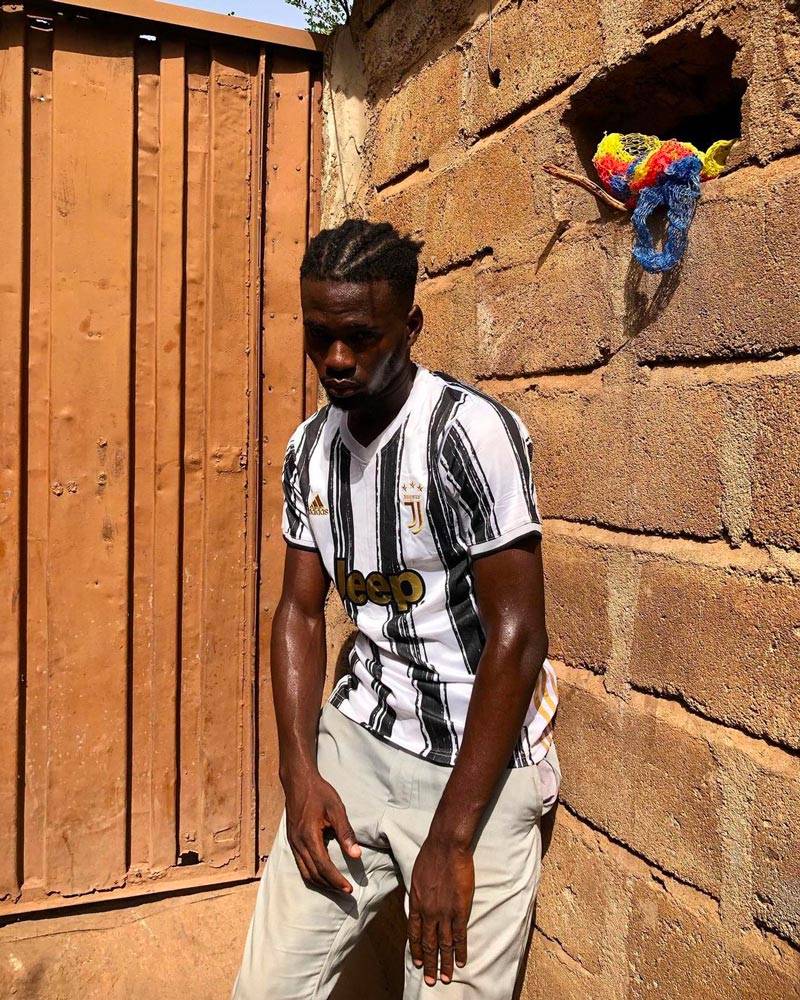 Where do they get the jerseys from? Are they relatively expensive?
There are more or less two kinds of jerseys. You can find original jerseys in a few shops, but it represents a very small percentage.
I would say 90% are fake ones coming from China, sometimes with additional details or logos that don't exist. For example, I've seen many Tottenham shirts with nine stars on top of the logo. I've seen a Barca shirt with Wayne Rooney on the back. My point with Champions League Koulikoro is also to keep track of these abnormalities. These shirts from China are usually between 1500 CFA and 6500CFA (between 2,50€ and 10€ for the best quality). I've learned from doing this project that China can dictate what people will wear in the streets by its massive importation. For example, when Ajax recently made it to the UCL semi-finals, I started to notice a lot of Ajax shirts in the streets, not necessarily because people wanted to wear them but because they have been massively imported.
The others are jerseys from Yougou Yougou.
Yougou Yougou = second-hand clothes that Europeans no longer want to wear and are donated. These clothes are massively imported into Africa by organizations or people who take advantage of the fact that most West Africans cannot afford brand new clothes. Most West Africans wear or have worn Yougou Yougou. Yougou Yougou has flooded all West African markets, and it made Africa again dependent on Europe as Yougou Yougou does not have any competitors. Therefore, developing a local textile activity is impossible as it would not beat Yougou Yougou prices.
In general, West Africa is a trash bag for what Europeans don't want to wear anymore. So you can find great football jerseys in these markets, but most of the things are from Zara or H&M, and it is even cheaper than China's imported garments.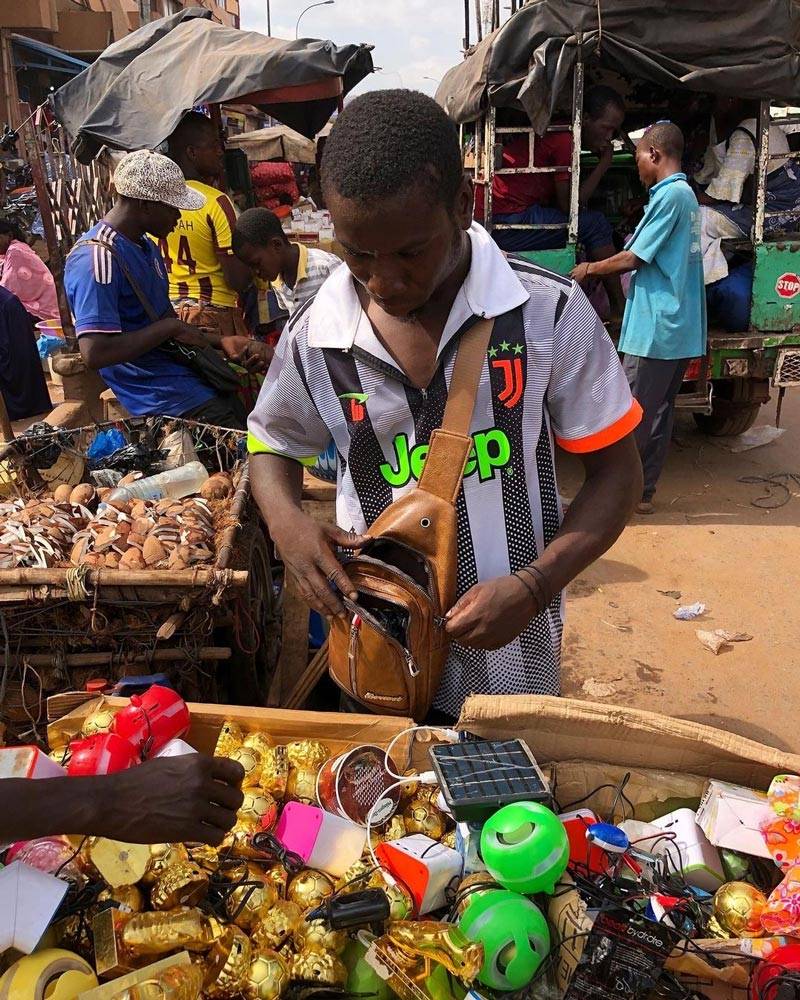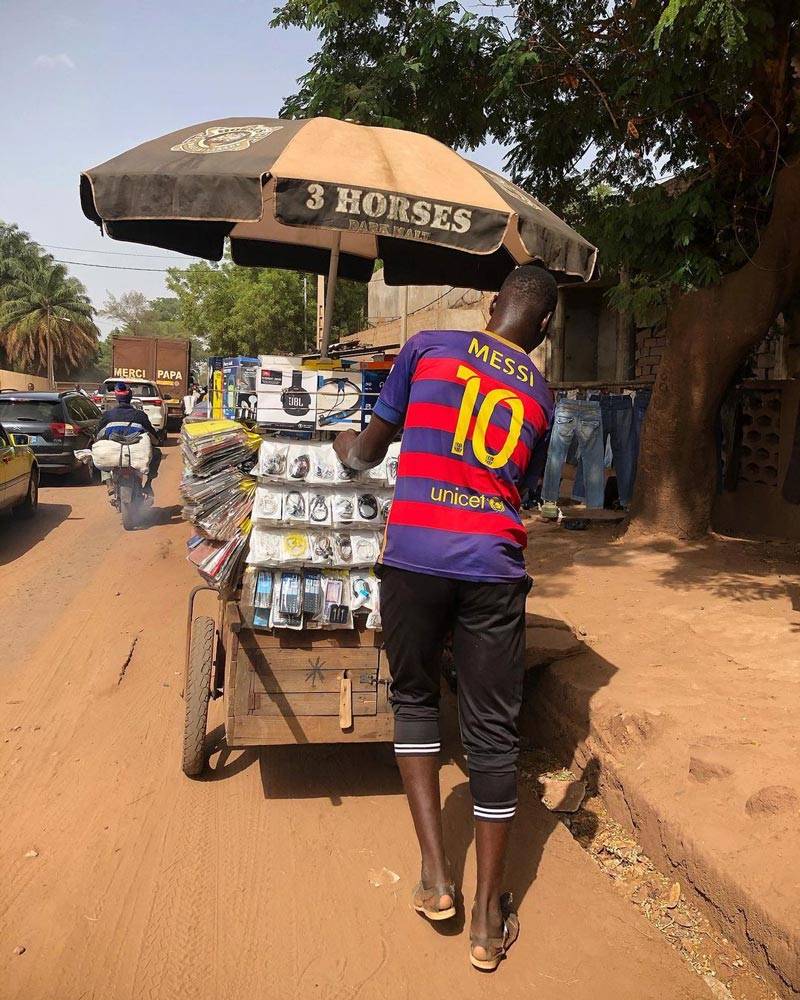 Do people distinguish between originals and replicas? What are there factors that make jerseys especially desirable in the communities? Do some people collect?
The difference between original jerseys and counterfeit ones doesn't matter for us; it's not about the value; it's about the object in itself. Fakes and originals are made of the same materials. I would even say some fake replicas are as well made as original ones. Also, football jerseys that are fake have something special and entertaining factor that can't be denied. There are incredible pieces that emerge from this, with unique logos, details, even collars shapes that differ from originals and add something else. That's also what I want to highlight in my project, the diversity in the type and style of football jerseys that are worn. There are also trends; for example, recently, the trend is football shirts with luxury brand logos, fake collaborations such as Manchester City x Louis Vuitton, Juventus x Gucci, PSG x Chanel. Football shirts are above all fashion garments.
If you get out of the house and walk through the streets, do you encounter many people wearing a soccer jersey, or is it quite rare? What types of jerseys excite you the most?
It's very simple; you can't walk ten minutes in Bamako's streets without seeing a football shirt. Everybody wears it, children, taxis, old ladies, farmers, fishermen, etc. What excites me the most is rarity. Among all CR7, Messi, Neymar, one sometimes runs into a golden egg: Schweinsteiger, Govou, Seedorf, Gourcuff, Gerrard, Forlan, Inzaghi… I also love to find a shirt worn by a child too young to have seen the player compete in the different championships. Let's say a 9-year-old child with Gattuso on his back is a golden egg.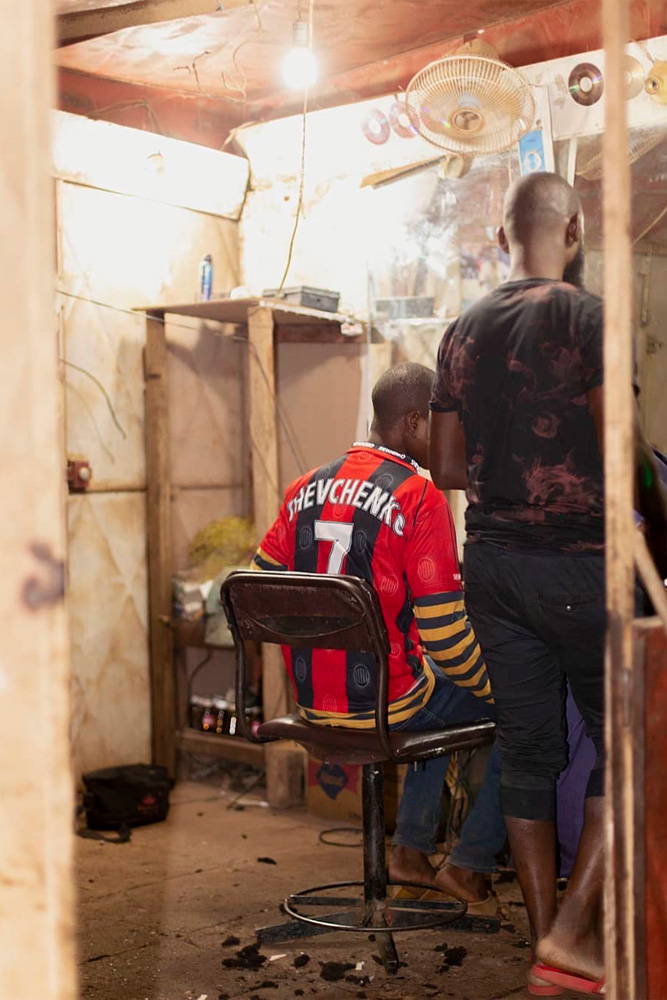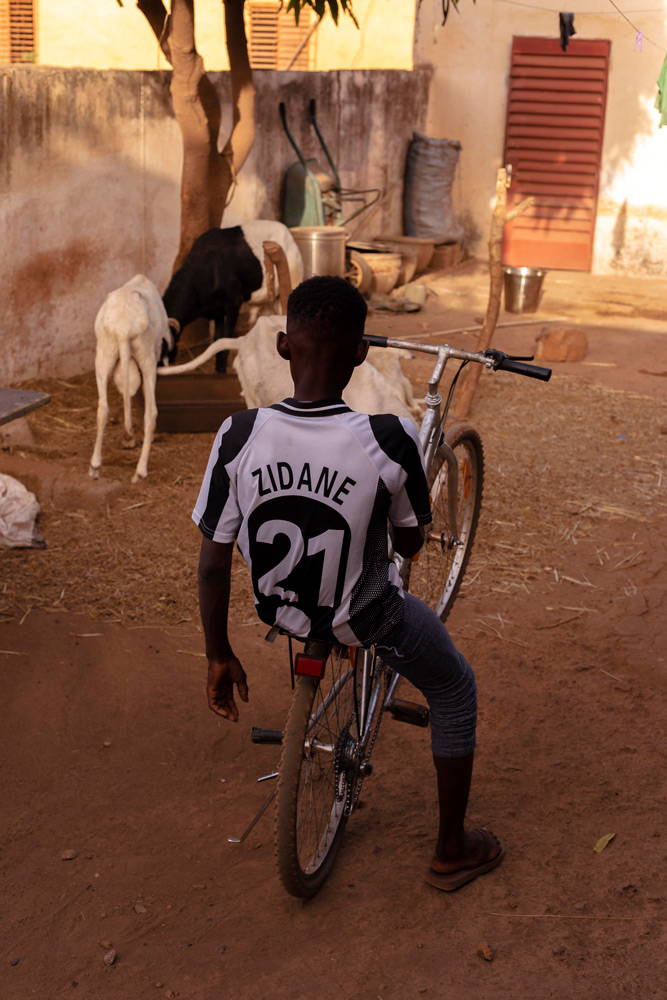 Is there a particular story that stuck with you during your documentation?
I have so many stories that happened on the field, but one thing I couldn't have imagined is the impact this project had on social media. For example, I received death threats from some supporters of the Besiktas, Galatasaray, or Fenerbahce because I posted too many photos of their opponent.
And are you working with brands for the project? And are they planning to work on the ground in Africa?
Aside from this project, I already work with brands, such as Nike, Adidas, and Puma; I also created content for Nike's App, and I have collaborations coming soon insha'Allah. And yes, these brands are planning to work on the ground in Africa. It takes time to reflect on what we want to do, but of course, one of the goals is to bring brands actively there.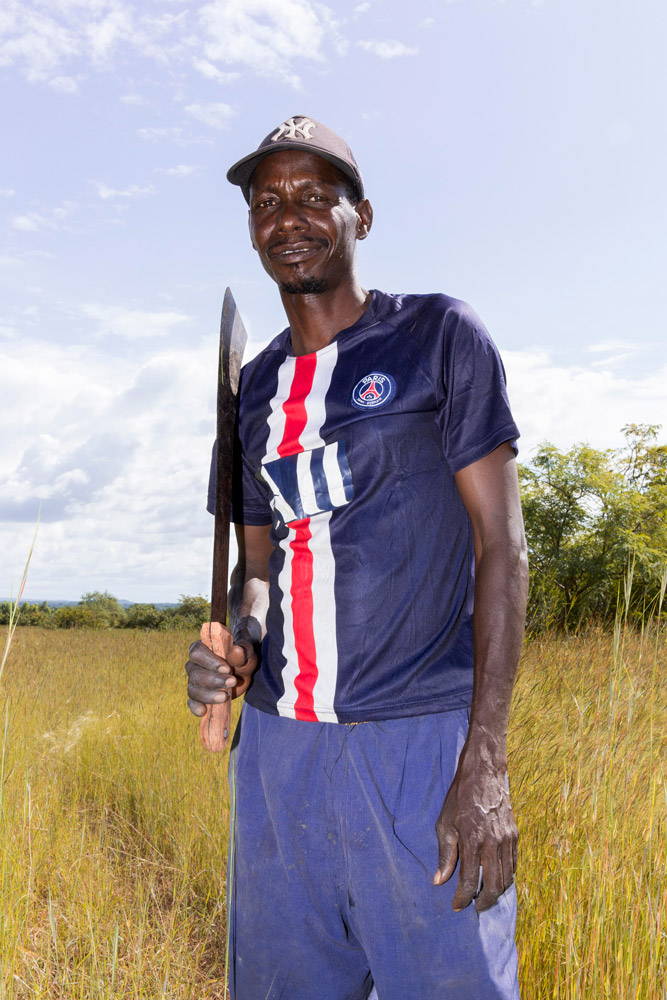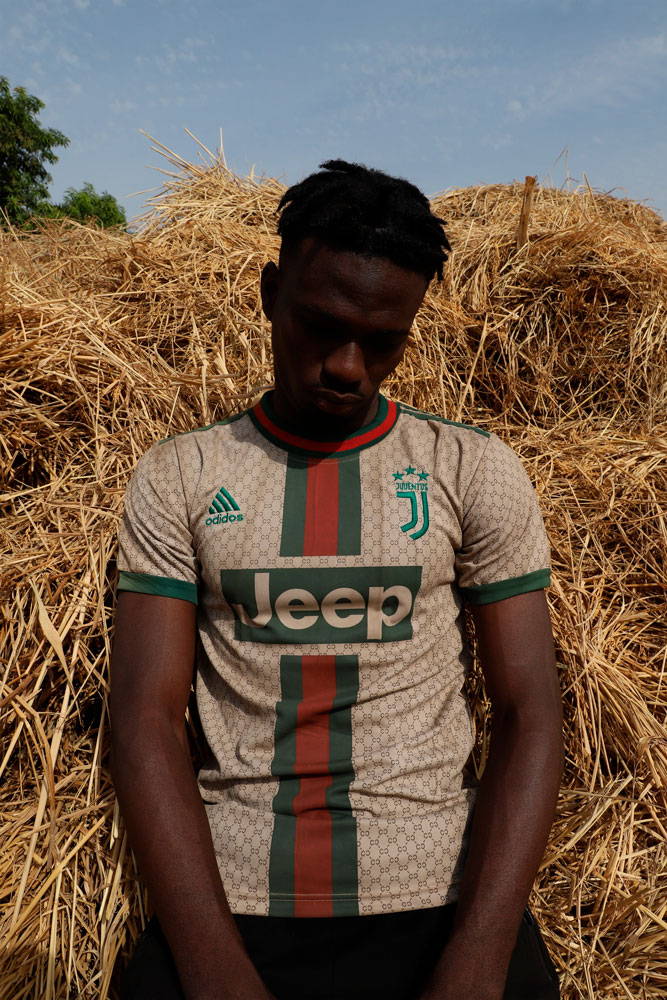 What is the goal of your project? Have you defined a vision for your documentation?
It's important for me to document these phenomenons that are a huge part of my culture and life as well as showcase this West-African youth, who is so little cared about. My process is immersion and fieldwork, based on the people I come across. Some photographs are done in the streets, at markets, shops, or at people's houses. These photos are either shot with a camera or phone, depending on the situation. There are also photos that are staged, when I know exactly what I want, from the model to the scene or the outfit. As an artist, I developed my own working process to give life to this documentation through my vision and aesthetics. I would define it by a mix between fashion photography, street photography, and documentary.
Champions League Koulikoro is, above all, an act of brotherhood. And I am super proud and happy that this project reached so many people and generated many interactions. Social media allowed me to build a real community. Also, I want to work on new types of projects, such as the latest I'm working on, the relationship between Islam and football.
And how is this relation between Islam and football growing?
It's more about exploring where football and Islam intersect. There are some links between football and religion, such as the communities gathering, that even lead some people to say that football is a religion. As a Muslim, for me, it isn't, but it just shows that there is a relatedness to explore and question. My upcoming project is focusing on each symbolic garment, the football jersey and the qamis, and the combinations which can result from this. One day, I came across a really bad quality picture of a PSG qamis. It struck me, and that's how the idea of this new project came to my mind.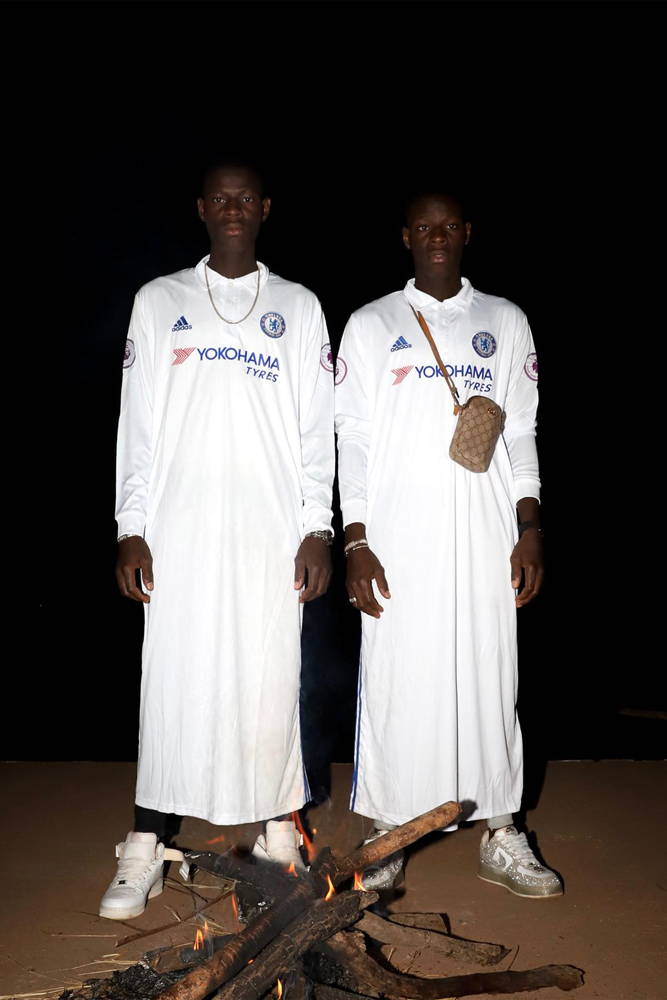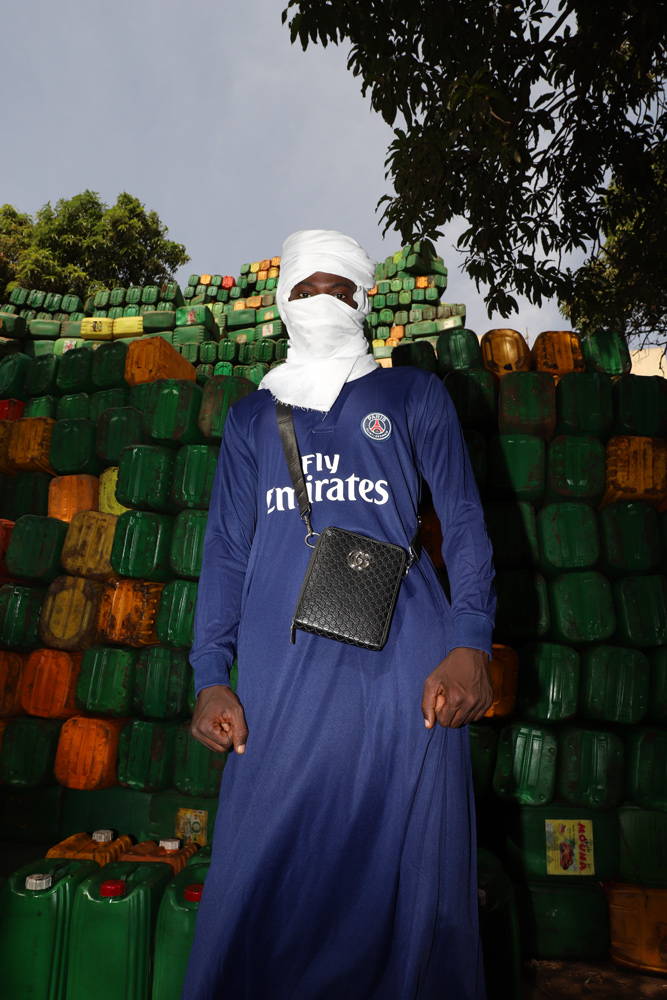 Are there local teams growing in Africa and becoming recognized outside of the continent?
Well, as far as clubs, not a lot, and they are not growing much. Now it's not a secret that a lot of global talents come from African countries. They have nothing to envy Brazilians or Argentinians, for example, in terms of technical skills. The thing is that talented players are doomed to move to leagues with more money, such as European, Chinese, or Middle East ones. Therefore, is it more difficult for those local teams to have international recognition and attract the most talented players.
All image credits to: Émile-Samory Fofana.
To receive updates on our latest editorials and documentaries, be sure to follow @oneblockdownon Instagram and subscribe to our newsletter below for more.