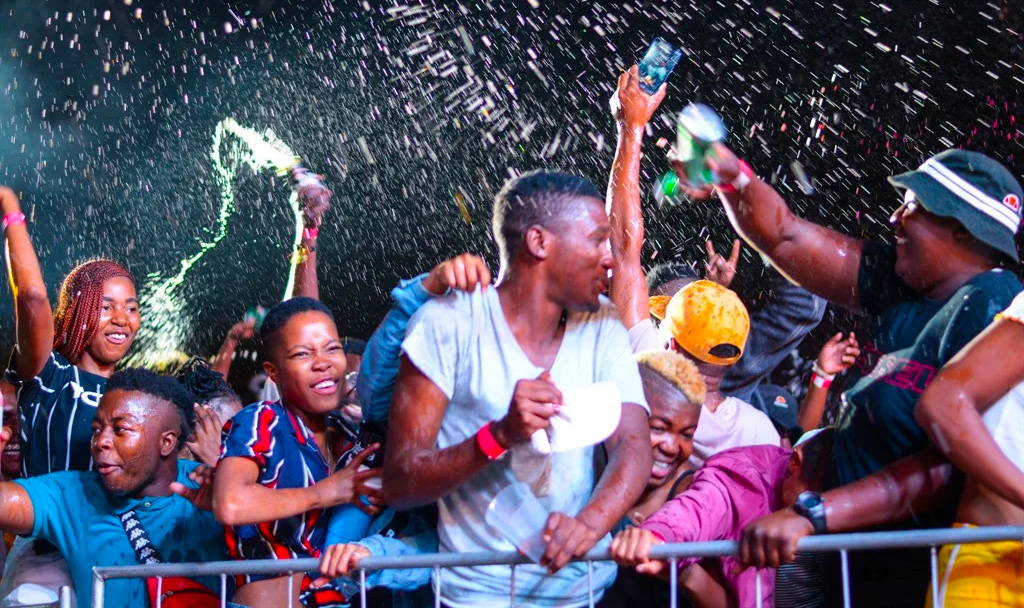 Amapiano: The Online Heartbeat of SA's Youth Culture

The One Block Down editorial archive is an ever-evolving resource detailing the cultures, movements and ideas that defined contemporary stylistic discourse. From unique takes on today's leading pop-culture topics, to off-kilter stories that might have slipped through the net, our editorial archive is as fundamental as it is abstract.This latest editorial is part of our on-going partnership with content creator Samutaro.Copy by Vanessa Fajemisin.
From percussion to piano, Amapiano is undoubtedly hypnotic. Be it the rib cage-rattling log drums or the sultry, soulful chords, anyone who's gotten an earful (in the club or the bedroom) can tell you: its effects are spellbinding.
For those unlucky enough to be uninitiated, Amapiano is an electronic music movement - created and still most popular - in the townships of South Africa's Gauteng province. Taking inspiration from deep house, dibacardi, kwaito and bubblegum, the burgeoning genre has been gaining widespread popularity in SA, the larger continent, and internationally. And while not exactly new, Amapiano's intoxicating sounds have made it one of the greatest dance music success stories of the decade, having exploded from a hometown trend into a global phenomenon.
While West African Afrobeats has been reigning musically across South Africa and the rest of the African diaspora for years, the Amapiano movement has built upon the nation's rich history of dance music to create its own distinct sound. In the mid-1990s, kwaito emerged, a subgenre birthed as the country celebrated the end of apartheid. It's a variant of deep house music with roots in Afro-pop and traditional Zulu musical styles, slowed to roughly 105 bpm. Later came Afro house, most popular in the 2000s, and in the early 2010s came gqom, a brand of South African EDM.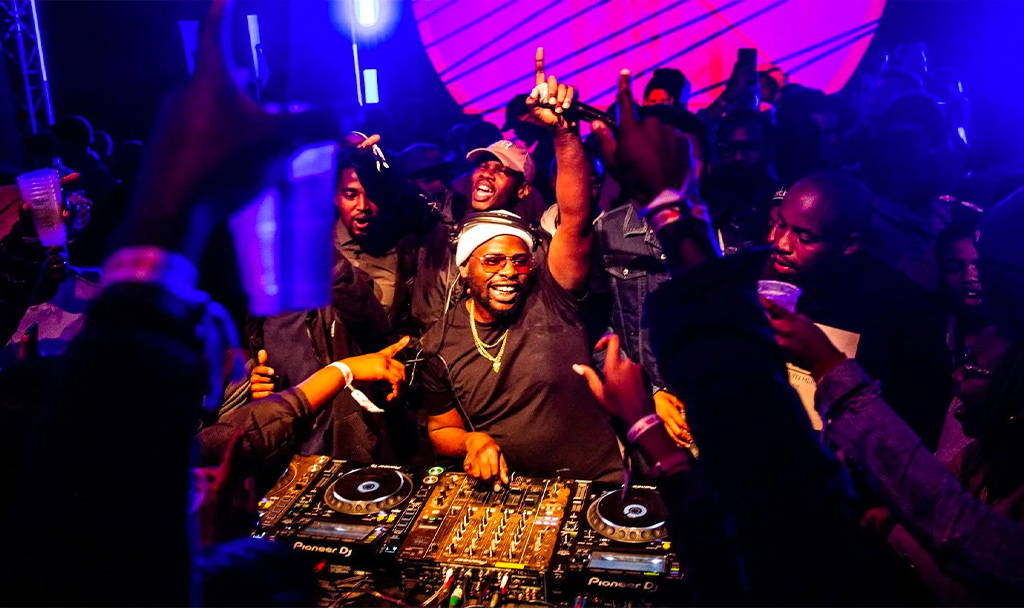 Taking cues from kwaito bass lines and the percussions of South Africa's bacardi house, Amapiano's bright, jazzy, sound has become the latest chapter in the history of South African dance music. More than just music. It's a lifestyle. A culture. A vibe. It's a soundtrack to encapsulate the Black youth experience shared across the country's townships. You can hear it played in cars, on phones, in lounges and clubs, to a style with a variety of moods that can be listened to anywhere for different occasions.
Distinguishable by its high-pitched piano melodies, barrelling baselines and slow tempo deep house rhythm and groove, Amapiano often features repetitive, raw vocals and jazzy samples ranging from a soulful piano to the flute. Its relatively slow pace (between 100 and 120 BPM), though might sound contradictory, aids in building a charged and dramatic atmosphere.
Early Amapiano mixes and compositions were experimental, devoid of any specific style but drawing influence from many. Today, a number of prominent strains are now easily identifiable within the genre. Dust or Street Amapiano is a rawer version with heavy basslines, while Private School Amapiano is more soulful in character and typically heavily vocalised. Techno Amapiano is a newer, experimental techno type.
DJ Maphorisa & Tyler ICU - Izolo (Official Video) ft. Madumane, Mpura, Daliwonga & Visca
"There's jazzy piano where it's just an instrumental," explains DJ Maphorisa, the South African producer partially responsible for Drake's record-breaking smash "One Dance." "We have soulful amapiano with voices. And there's this one we call tech piano, like techno, with claps and snaps," he tellsRolling Stone.
Through local venues and events, Amapiano became the soundtrack of the township during the mid-2010s. But since the experimental sound began emerging in 2012, there has been debate around the specific origins of Amapiano, so tracing Amapiano back to a single artist or township can be tricky.
"If you put one hundred guys in a room and you asked them where [amapiano] started, you'll get one hundred answers and some very heated debates,"said Siphiwe Ngwenya, cofounder of Born in Soweto, a homegrown label that's backed Ampiano since its early days.
With a long list attached to the genre's conception, various accounts make it difficult to pinpoint its exact origins. However, some early adopters of the sound point to DJ and producer Kabza de Small, duo MFR Souls and DJ Stokie as originators/key players.
"You know how hood politics go. There is a big debate about which township amapiano originated from. The truth of the matter is that amapiano was born in the soil of the streets of South Africa. Therefore, it belongs to all of us," Small said in the documentary "Shaya!".
SHAYA! Amapiano Documentary
This ambiguity seems to be a byproduct of a distinctly digital movement established in the channels of the internet. Developed by bedroom producers and DJs with limited resources, the music traditionally circulated via low-quality file shares on messaging apps and online forums, and other DIY, peer-to-peer methods. This also enabled the genre to break away from the traditional trajectory of pop consumption, which depends largely on the media.
Before Amapiano hit commercial radio stations, the grassroots music phenomenon was prepared in the streets, grooved to in local spots and shared within WhatsApp communities. While initially dismissed as inferior, the absence of gatekeepers encouraged organic growth rapidly. Music spread from phone to phone faster than anyone expected and by early 2019, you couldn't walk through the streets of South Africa without hearing Amapiano's sunny melodies.
In a (global) sense, 2019 was the year of "the yanos" (the genre's affectionate nickname). By early 2019, the genre had taken over the radio and clubs of South African townships, making stars of artists such as Junior Taurus, Mr JazziQ and Josiah De Disciple, and Kabza De Small. That same year the genre experienced largely increased popularity across the African continent and beyond, going from a local South African trend to an international phenomenon. South African DJ and radio host DJ Da Kruk attributes the success of AmaPiano to a wider DJ and mixtape culture, citing them as vehicles to move new music from one ear to the next.
The biggest indicator of amapiano's global reach are its superstars. Thanks to widely recognized artists like DBN Gogo, Focalistic, Major League DJz, and more, Amapiano has been finding its way onto dance floors across the world. Though in South Africa, like the rest of the African diaspora, West African Afrobeats has reigned musically for years, the nation's rich history of house music and pioneering Amapiano sound is one that other African artists have begun tapping into. "I think it's the first time a genre of ours dominates our own airplay more than international songs,"says Busiswa, a South African house superstar who's worked with Beyoncé, whose discography spans the subgenres gqom, kwaito, and recently, Amapiano. That said, prominent South African amapiano artists have made it clear that it is unacceptable to co-opt the genre without "paying dues". Maphorisa, one of the most prominent producers in South Africa, toldInventa: "If you don't involve us, it's not amapiano. Trust me, you can't eat alone on amapiano—it's a community movement but we don't mind sharing."
Amapiano Balcony Mix Live XPERIENCE B2B with Mellow & Sleazy | S4 | Ep7
In line with the genre's unique history and online accessibility, the influence of social media is integral to the spreading of the sound. On TikTok, the #Amapiano hashtag stands at more than 4.7 billion views. Spotify streams of amapiano outside of Sub-Saharan Africa have grown more than +563% on the platform in the past two years. In 2022, music portal Beatport added "amapiano" as a genre of its own, whereas until now has been categorised under "Afro House," "Deep House" and "Dance/Electro Pop."
Through its constant evolution, from layered references to jazz, '90s house and South Africa's dance music of the past, Amapiano has created a culturally-rich, nostalgic sound that not only reflects the township's mood, but a heartbeat of the youth at the moment. The fact that it is made by the people for the people is perhaps Amapiano's most compelling argument for its consistent success. The genre is inspiring and connecting a new generation of creative DIY beatmakers and DJs, and it's in their unorthodox compositions that the otherworldly power of the sound exists. The uniqueness of the Amapiano music movement lies in its ties to youth culture and how its varying elements come together in this digital age.
By providing opportunities for everyone from curators, to dancers, to club promoters, the staying power of Amapiano has already improved the lives of creatives, many of whom come from middle-to-low income backgrounds. Amapiano is one of the only genres where someone big on YouTube, WhatsApp or Datafilehost mixtapes is actually booking shows, getting paid gigs or endorsements. "Amapiano is a form of expression and getaway for the youth of South Africa," shares DJ/producer duo Major League DJz withBeatport. "It expresses the struggles and enjoyments that the youth go through on a daily basis. The music, dances and style is a way for them to showcase to anyone that cares to watch the pure essence being youth in South Africa."
To receive updates on our latest editorials and documentaries, be sure to follow @oneblockdownon Instagram and subscribe to our newsletter below for more.